Please refer to the following information for appropriate procedures and guidelines.
All purchases generally are made on a competitive bid basis. A Proprietary/Sole Source Justification must be submitted by the department when the estimated cost exceeds $5,000 and specifications limit consideration to one manufacturer, one product, or one service provider. The proprietary justification form must be signed by both the requestor of the proprietary/sole source purchase and the appropriate Vice President or Vice Chancellor for the requesting department. The request for proprietary/sole source procurement must be attached to the ePro requisition. The final decision/authorization for the proprietary/sole source purchase rests with the Procurement area of the Business Support Services.
Purchases of $5,000 and below allow for selection of the vendor of choice. Departments are encouraged to practice good faith and award based on best value.
Purchases requiring informal bids must comply with the requirement for bids/quotes from at least two (2) Historically Underutilized Businesses (HUB). When at least 2 HUB business quotes are not attached, information must be included with the requisition documenting the reasons for non-compliance. All informal quotes must be documented in writing and cannot be verbal quotes.
Purchasing staff will decide on the procurement method to be used for all items with a cost of more than $50,000.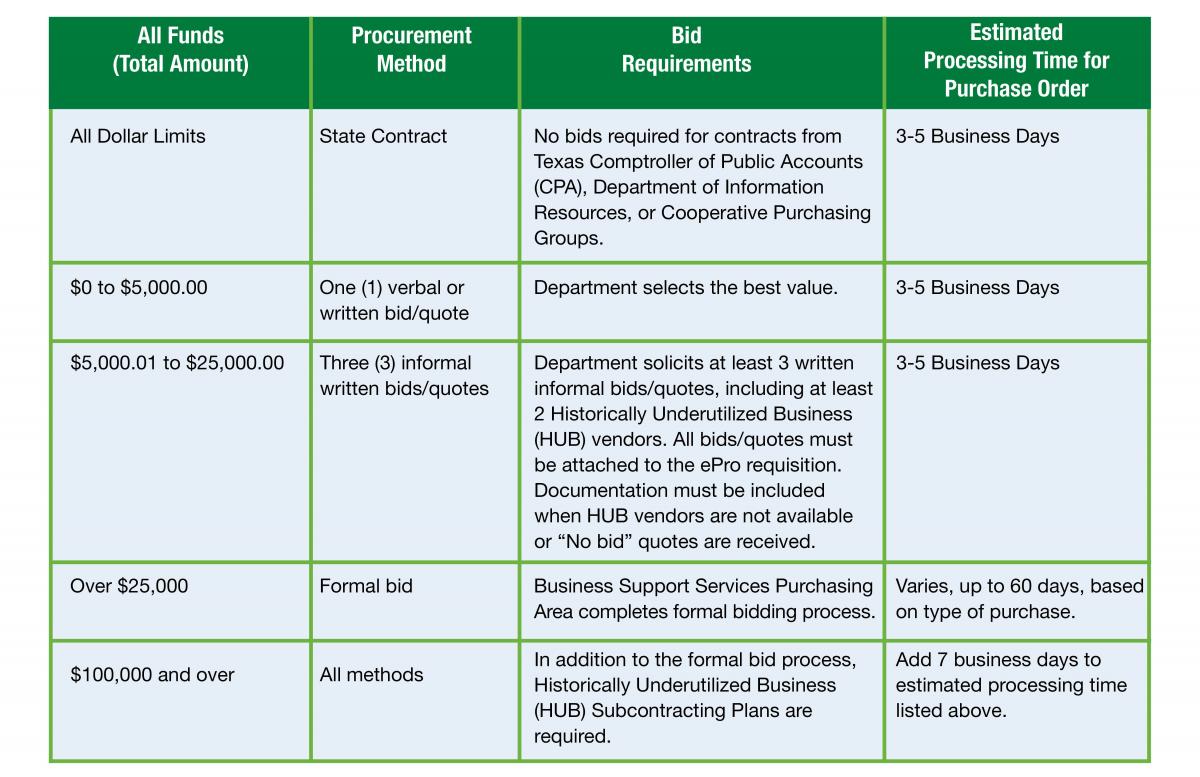 Bid Inquiry
Bid (solicitation) opportunities are posted on this website as they become available.  Depending on the solicitation, a prebid meeting may be held providing an opportunity for in person questions.  If a prebid meeting is not indicated and you have questions about a posted bid, use this Bid Inquiry form to send an e-mail to the contract specialists.