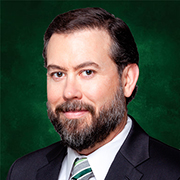 Paul Corliss
Vice Chancellor & Chief Communications Officer
Paul Corliss is the University of North Texas System's Chief Communications Officer. He is a member of Chancellor Lesa Roe's cabinet, and serves as the system's lead publicist and marketing strategist, overseeing media relations, branding, advertising, social media, digital communications, photo, video and public affairs, as well as both internal and external communications. Corliss handles media requests for Chancellor Roe and the UNT System Board of Regents. Previously he served as Director of Communications for the UNT System.
Corliss joined the UNT System after spending 20 years in professional sports, most recently as Vice President of Marketing & Communications for the NBA's official alumni association, Director of Community Affairs & Business Public Relations for the NFL's New Orleans Saints, and Director of Communications for NASCAR's Phoenix International Raceway. Through his own sports marketing company, Corliss has represented hundreds of celebrity athletes in marketing deals. He began his career as a sports writer for the Denton Record Chronicle and Dallas Morning News.
Corliss holds a master's degree in organizational leadership and administration from Concordia University Wisconsin and earned a bachelor's degree in journalism from Texas Christian University. He is an adjunct sports communications professor for UNT Dallas.