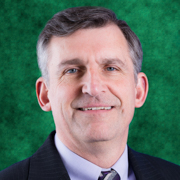 Steven Maruszewski
Vice Chancellor, Strategic Infrastructure
Steve Maruszewski joined the University of North Texas System as Vice Chancellor for Facilities in January, 2019. Maruszewski guides UNT System facilities, campus master planning and major construction activities. While maintaining a core office at UNT System Administration headquarters in downtown Dallas, Maruszewski works closely with the University of North Texas in Denton, UNT Health Science Center in Fort Worth and UNT Dallas as part of a "borderless" team where expertise is utilized across campuses – especially for major renovation and construction projects.
Maruszewski leads the UNT System's staff of architects, planners, interior designers and other construction and administrative professionals. Working closely with the UNTS administration, faculty, staff and students, the UNT System's Office of Facilities Planning & Construction implements the highest standards in design, particularly focusing on high-performance, efficient, and sustainable facilities.
Maruszewski joined the UNT System after spending 23 years at Penn State in various capacities, serving in leadership roles for virtually all aspects of Facilities Management at PSU – serving not only Penn State's largest campus (45,000+ students), but also its 24 other campus and research locations (30,000+ students).