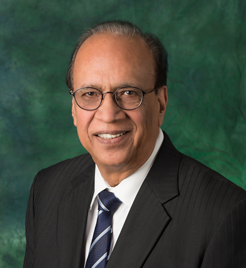 A.K. Mago
A.K. Mago of Dallas, Texas, was appointed to the Board in 2015, and his term expires in May 2021. He holds an MBA from the University of Texas at Dallas and is its distinguished alumnus.
Regent Mago is chairman and CEO of Mago and Associates, Inc. He is the founding chairman of Greater Dallas Indo-American Chamber, now known as the US-INDIA Chamber, which he helped establish in 1999 and served as the Chairman until 2003.
He has dedicated much of his life to contributing to deepening U.S.-India ties as well as improving business relations between the two countries. The Chamber has actively promoted trade and investment between the U.S. and India. He aided in the creation of the Senate India Caucus with Sen. John Cornyn and then Sen. Hillary Clinton. Regent Mago played a key role in garnering support in Congress, which led to the successful conclusion of the U.S.-India Nuclear Cooperation Initiative in 2005.
Regent Mago has been the recipient of several prestigious honors. In 2010, he was given the Pravasi Bharatiya Samman Award for Community Service, the highest honor conferred on overseas Indians or persons of Indian origin in recognition of their outstanding achievements in both India and abroad. In 2014, the former president of India Pranab Mukkerjee conferred upon Regent Mago the Padma Shri award, the fourth-highest civilian award in India, in the category of Trade and Industry.
Regent Mago is a member of the Salvation Army Advisory Board of Dallas County, Primary Care Clinic Board, serves as an advisory board member of BBVA Compass Bank in Dallas and has served as District Governor, District 2X1, Lions International, Commissioner - City of Dallas Plan and Zoning Commission and Dallas County Community College District Foundation Board member.
Among the many positions of importance Regent Mago has held, one particularly special to him is that of Director of the Dallas-Fort Worth International Airport Board in 2002, the same airport where he arrived as an immigrant in 1974.
Regent Mago and his wife, Monica, have two children and three grandchildren.