Status Update - August 20, 2022
Updated building hours for August 20 - 26, 2022.
Status Update - June 16, 2022
Presented by Downtown Dallas Inc: Food trucks at Pacific Plaza Park, 401 N. Harwood St, Dallas, TX 75201. Thursdays and Fridays in June, 11am - 2pm.
Status Update - June 4, 2022
Updated building hours for June 4 through July 29, 2022.
Status Update - May 13, 2022
Updated building hours for May 16 - June 3, 2022.
Status Update - April 20, 2022
The work order system for the Lee F. Jackson building is now live. You can access the work order link here or scroll further down this page to the section titled "Work Order Requests." The link can be used to submit orders for both UNT System building and the College of Law.
Staff members will receive email notification once when they submit a work request. The notification will reflect when the request is accepted or declined.
Users only need an email address to access the link.
Contact Kendra Brown or Cody McCullough for questions about the TMA System.
Status Update - Nov. 9, 2021
Our canopy has LED lights now.
We have a new Welcome Center where the old ArtSpace used to be.
The campus banners look amazing!
We have some new wall wraps and photos!


Status Update - Aug. 3, 2021
The following are upcoming activities taking place at the UNT System building:
UNT System will host a "Welcome Back to School" event for Downtown Montessori at Ida B. Wells Academy students on Aug. 16 (the first day of school for Dallas ISD). UNT's Scrappy the Eagle and UNT Dallas' Blaze the Jaguar are both scheduled to make an appearance, as are members of the UNT Dance squad.
Renovation of classroom areas and office spaces will be starting soon. Additional updates will be sent as we get closer to the start of construction. Please be aware that Conference Room 712B will be unavailable while these renovations are ongoing.
Hoteling spaces at the UNT System building will be available for reservations via Outlook in the coming weeks. More information will be made available soon.
The UNT System building will close at 6 p.m. through Aug. 15.
Status Update - July 1, 2021
General:
Furniture has been returned to their locations. Please do not move them.
We have made several updates to our building interior and exterior: Campus banners, wall wraps, window wraps and flags (facing Main St.)

The canopy restoration should be completed by end of July

We are modernizing our elevator! The update should be completed by August 15. Meanwhile, take the "Stair Challenge" and count how many steps there are from the Lobby to the 7th floor! If you need the elevator, please visit our Security Desk for an escort on the freight elevator.
Please contact us at 1901main@untsystem.edu for further information.
Building Hours
Building hours for August 20 - 26, 2022.
| DAYS | BUILDING HOURS / CUSTODIAL HOURS | SECURITY HOURS |
| --- | --- | --- |
| Monday - Thursday | 6:45 a.m. – 11:00 p.m. | 6:00 a.m. – 11:30 p.m. |
| Friday | 6:45 a.m. – 7:00 p.m | 6:00 a.m. – 7:30 p.m. |
| Saturday | 9:00 a.m. – 6:30 p.m. | 8:30 a.m. – 7:00 p.m. |
| Sunday | 12:00 p.m. – 6:30 p.m. | 11:30 p.m. – 7:00 p.m. |
Parking
There is street parking available in front of our building on Main Street. For City of Dallas street parking you will need to use the Park Mobile app (https://parkmobile.io/).
There is also Elm Street Garage, located at 2000 Elm St., has covered parking and includes a sky bridge connection (3rd Floor of garage) to the UNT System building.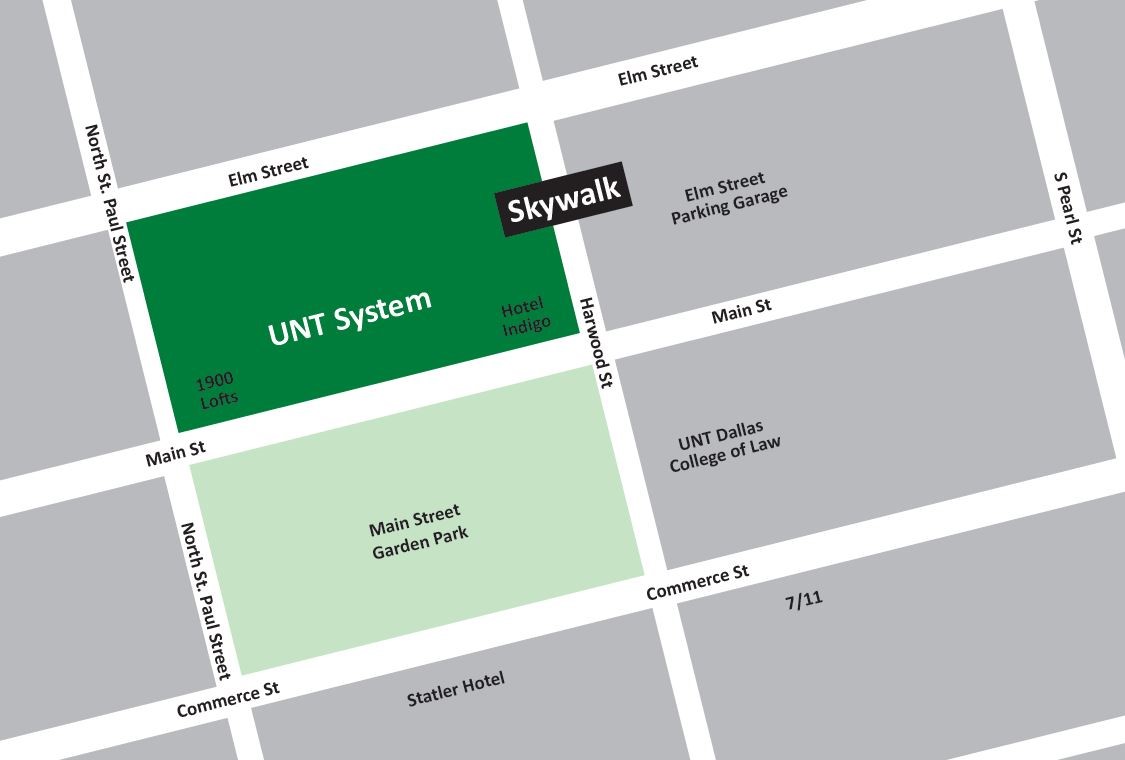 Elm Street Garage daily parking information:
There are no in-and-out privileges when paying for daily parking;
The daily parking rate is presently $12;
Students may reduce their daily parking as follows:

Bring the ticket one receives upon entering the parking garage into the Lee F. Jackson Building and scan it at the security desk.
The scanner is programmed to reduce the parking rate to $6 for those who arrive before 4pm.
The scanner is programmed to reduce the parking rate to $4 for those who arrive after 4pm.
When you exit the parking garage, scan the ticket at the gate and pay the appropriate amount.
You must have your entry ticket to receive the discount.

Occasionally, special event parking can alter the cost of daily rate parking.
Please note that rates are subject to change by the garage in the future.
Transportation
1901 Main Street is four blocks south of the DART light rail St. Paul Station..
Building Policies
Safety Warnings
All students, employees, and visitors will follow directions as provided during any emergency, such as fire or severe weather. Alerts may be issued via the building's public announcement system, emails, text messages, and voice mail. Alternatively, if an alert occurs and no instructions are given, check posted instructions in all classrooms and office suites.
Access Policy
As a state institution, the UNT System Building is open to the members of the public who have business with the UNT System, UNT Dallas College of Law, or another tenant of the building. Visitors should check in with the Security Desk in the lobby on the first floor upon entering the building, where they will receive directions to the office or person they are seeking. Visitors will be provided directions or an escort and a visitor's name badge as appropriate. Visitors may also be asked for proof of identity.
Alcohol usage
All events require proof of insurance and TABC license.
No Tobacco Policy
No tobacco products or e-cigarettes may be used or consumed inside the UNT System Building
Lost and Found
Items found in the building are held by the Security Desk, 214.571.9719.
Rental Agreements
Emergencies
Simplified floor plans of Egress and AED locations in development.
Continuity of Operations Plan
Work Order Requests
UNT System Facilities Service Request: Use this link to submit work orders for both the UNT System building and the Law Center building.
Contact Kendra Brown or Cody McCullough for questions about the TMA System.
Tenants