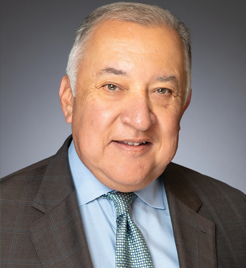 Carlos Munguia
Carlos Munguia of University Park, Texas, was appointed to the Board in 2018, and his term expires in May 2023.
A veteran of nearly four decades in the banking industry, Regent Munguia was named President of Amegy Bank of Texas, Dallas Region, in October 2017 to develop and execute a strategic marketing expansion plan for the Dallas market, specifically to grow market share for the Corporate Banking, Commercial Banking, Business Banking and Private Banking lines of business.
Regent Munguia, who earned a degree in Banking and Finance from the University of North Texas in 1979 and graduated from the Southwestern Graduate School of Banking at Southern Methodist University in 1991, began his prominent career in Dallas with GE Capital Corp after leaving Denton with his degree. Along the way to leading Amegy Bank, he worked at Texas American Bank, First City Bank, Bank One, F&M Bank and Texas Capital Bank, where he served as Executive Vice President and Manager of Commercial Banking for seven years.
Over the last 38 years, he has developed and managed commercial relationships of local companies with revenues ranging between $2 million and $500 million.
Regent Munguia has long been committed to serving the civic and business community through his involvement in a number of organizations, including the Salesmanship Club of Dallas and as past Chairman of the Board of the Park Cities YMCA. He also served as Immediate Past Chairman of the Advisory Board of the College of Business at UNT.
He has also served on the Boards of the Entrepreneurship Institute, Fine Arts Chamber Players, Town North YMCA, Southern Dallas Entrepreneurship Institute and the Presbyterian Housing Program, plus numerous other organizations such as the Circle Ten Council Explorers, North Dallas Chamber of Commerce, Boy Scouts, March of Dimes and United Way.
Regent Munguia and his wife, Susan, have four children, both a daughter-in-law and son-in-law, and three grandchildren.