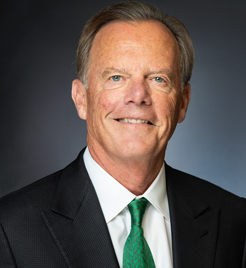 Daniel Feehan
Daniel R. (Dan) Feehan of Fort Worth, Texas, was appointed to the UNT Board of Regents Board in 2019, and his term expires in May 2025. He is currently the Chairman of FirstCash, Inc. (NASDAQ: FCFS).
Dan previously served as the President and Chief Executive Officer of Cash America International, Inc. (NYSE: CSH) for 25 years. In 2015, Dan retired as Chief Executive Officer of Cash America and assumed the role of Executive Chairman. In his capacity as Executive Chairman, Dan led the board and management team into a Merger of Equals with First Cash, Inc. which concluded in 2016. Dan then became Chairman of the new FirstCash, Inc.
Dan began his career on the audit staff of Arthur Young & Company in Houston, Texas. He left Arthur Young in 1978 for a senior management position with the Wedge Group in Houston. At the Wedge Group, Dan negotiated the acquisition and financing of numerous companies and sat on the boards of several Wedge Group portfolio companies. In 1984, Dan left the Wedge Group to participate as a co-founder and president of Greer Capital Corporation, a real estate development and hotel management firm. At Greer Capital Corporation, Dan became an investor and early Board member of Cash America. Dan left Greer Capital Corporation in 1988 to join the Cash America Management Team.
Dan is a 1973 graduate of Texas A&M University with a BBA degree in accounting. He has also attended Executive Education programs at Harvard Business School over a period of multiple years. In 2006, the Mays Business School of Texas A&M University presented Dan with the Outstanding Alumni Award. Dan also received the Ernst & Young Entrepreneur of the Year Award in 2004, and was named the Top CEO of a Public Company by the Fort Worth Business Press in 2013. Dan is a past member of the Young Presidents' Organization and the World Presidents' Organization.
In addition to leading the board of directors of FirstCash, Dan also serves as Chairman of AZZ Incorporated (NYSE: AZZ). Dan is also a member of the board of Enova International, Inc. (NYSE: ENVA) where he chairs the Compensation Committee. Dan previously served on the board of RadioShack Corporation (NYSE: RSH) from 2003 to 2015 including periods as both Lead Director and Chairman.
In December 2019, Texas Governor Greg Abbott appointed Dan to the University of North Texas System Board of Regents.
Dan remains active in his community serving on the charitable boards of The Lena Pope Foundation and One Safe Place. He has also led fund raising efforts on behalf of the Juvenile Diabetes Research Foundation and the Susan G. Komen Breast Cancer Foundation.
Dan enjoys spending time with his two children and seven grandchildren. His personal interests include golf, fine novels, films and traveling.