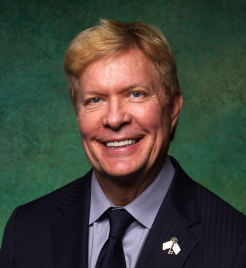 John Scott Jr.
UNT Health Science Center alumnus John Scott, Jr., D.O., MHA, FASA, of Keller, was first appointed to the Board in 2019. His term expires in May 2025.
Regent Scott is the Chief Medical Officer and Chairman of the Board with Elite Care Physicians and Premier Specialty Physicians. He most recently served as a former assistant professor at UT Southwestern Medical Center and worked over 20 years as an anesthesiologist and pain specialist at Pinnacle/U.S. Anesthesia Partners. He is currently practicing independently throughout Dallas-Fort Worth.
Regent Scott served in the United States Army Reserves for 9 years, was Chief of Anesthesia for the 94th army hospital prior to discharge, and carried the rank of Major at the time of his Honorable Discharge in 2000. He is an accomplished lecturer and an author of dozens of articles that have been published in medical journals and related industry publications.
A gubernatorial appointee on the Texas Medical Board District Review Committee, Texas Physician Assistant Board, Regent Scott is also a member of the board of directors of Lone Star Alliance, board president of Liberty Hospice, VP of Investor Relations Rastegar Investment/Property Company. In addition, he has served on the Executive Committee of Texas Medical Liability Trust, and he is a member of the Texas Society of Anesthesiologists where he currently serves as TSAPAC Chair and member of several committees such as Governmental Affairs Committee, Education, Long Range Planning, Key Contact, Bylaws, Credentials, Communication Committee and District Director. He is also both a member and Delegate to the American Society of Anesthesiologists in addition to serving on the Executive Board of the ASAPAC and several other committees such as Governmental Affairs, Resident and Medical Students, Anesthesiologist Assistants and Veteran Military Anesthesiologist. In addition, Dr. Scott is a member of the Texas Medical Association and the Dallas County Medical Society.
Dr. Scott received a Bachelor of Science in Biology from Lamar University, a Master of Health Administration from Louisiana State University – Shreveport, and a Doctor of Osteopathy from UNT Health Science Center Texas College of Osteopathic Medicine. He also completed a residency in Anesthesia and Pain Fellowship at Texas Tech University Health Science Center in Lubbock, Texas. In addition, he also completed a Cardiac Anesthesia Fellowship at Ochsner Medical Center in New Orleans, La.
Dr. Scott remains active in his community serving as a medical liaison at White's Chapel United Methodist Church. He has also served on the DFW Humane Society Board of Directors and led fundraising efforts for the DFW Humane Society, United States Karate-Do Association (USKDA), American Heart Association and Special Olympics. In addition, he is an advocate against bullying.
Dr. Scott enjoys doing martial arts in which over the years he has earned multiple black belts in various disciplines. His other interests are working out, traveling and spending time with family and friends.