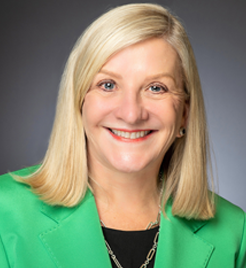 Laura Wright
Laura Wright of Dallas, Texas, was appointed to the Board in November of 2015 and elected chair in August of 2019. Her term expires in May 2021.
A UNT alumna who holds a Bachelor's and Master's degree in Accounting, Regent Wright retired in 2012 after 25 years with Southwest Airlines Co., the last eight of which she served as Chief Financial Officer and Senior Vice President of Finance. She started with the company in 1988 and became Vice President Finance & Treasurer in 2001. She also served as Assistant Treasurer and Director Corporate Finance.
Prior to joining Southwest Airlines, Regent Wright was a Manager with Arthur Young & Company.
Regent Wright currently serves on numerous prestigious public, private and non-profit boards including Board of Trustees for Pebblebrook Hotel Trust, Board of Directors for CMS Energy and Consumers Energy, Board of Directors for TE Connectivity, Board of Directors for Spirit Aerosystems, Inc., Board of Directors, SRI International and Board of Directors for Presbyterian Communities & Services.
She is also a strategic and financial advisor to nonprofit organizations.
Regent Wright has been the recipient of numerous awards and honors, including induction into the UNT Business School Hall of Fame in 2015. She was named among America's Best CFOs by Institutional Investor magazine in 2007, 2008 and 2009, was awarded a Lifetime Achievement Award by Air Finance Journal in 2008, was named Top 25 Women Finance Leaders by Treasury and Risk magazine in 2009 and D Magazine selected her as Top Large Public Company CFO in 2011.
Regent Wright is married to Randy Wright and has two children.