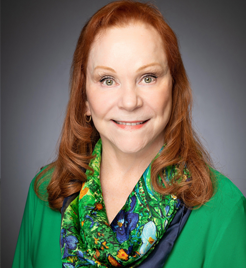 Lindy Rydman
Karen "Lindy" Rydman was appointed to the Board in June of 2022, and her term expires In August of 2027.
Regent Rydman is currently the co-owner and General Partner for Spec's Wines, Spirits and Finer Foods, a family business she has worked in since 1972. A UNT Alumna, Regent Rydman holds a Bachelor's in Music Education. She met and married her husband, John Rydman, also a Music Education major, at UNT. Rather than pursuing their degrees in music, the two moved to Houston and went to work for Spec and Carolynn Jackson in the family business.
Over the years Specs' has become one of the largest liquor, wine and beer chains in the country. With over 200 locations and 3,400 employees, Regent Rydman serves as the Human Resource Head and is integral in customer relations, retention, and preservation of the Spec's brand.
Regent Rydman is also the President of the Spec's Charitable Foundation (SCF). The primary concern of the Foundation is education. The SCF is a founding sponsor of the University of Houston Hilton School of Hotel and Restaurant Management Beverage Management Institute. Along with an endowed professorship, many scholarships are given annually to students, including full scholarships to qualifying children of Specs' employees attending the University of North Texas. To date, the SCF has helped over 20 students earn their college degree.
Regent Rydman and her husband are avid supporters of the Houston Symphony and the Symphony's outreach program to students all over the Houston area. To date, the SCF has raised more than $6 million dollars for this endeavor.
In 1998, Specs' was chosen Retailer of the Year by Market Watch Magazine, a division of the Wine Spectator Magazine. In 2001, Regent Rydman and her husband, John, were awarded the UNT Green Glory Award, and, in 2011, she was awarded the Distinguished Alumna Award. In 2015 and again in 2022, the Rydmans were given the Award of Excellence from the North Texas Association for Symphony Orchestras, and in 2015 they were a National Winner by the Business Committee for the Arts.
Regent Rydman has one daughter, Lisa Lindsey, a 1995 graduate of SMU who joined the family business and is currently Head of Marketing, Corporate Donations, and a future Owner of Spec's.