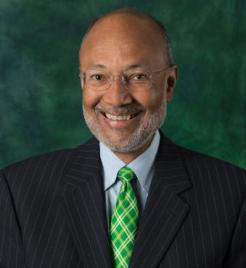 Milton B. Lee
Milton B. Lee of San Antonio was first appointed to the Board in 2013, and reappointed in 2018. His term expires in May 2023.
A native of Austin, Regent Lee graduated from the University of Texas at Austin with a Bachelor of Science degree in mechanical engineering in 1971. He is a registered professional engineer. Regent Lee is a life member of the Texas Exes and a Hall-of-Fame member of the Mechanical Engineering Academy of Distinguished Alumni.
Regent Lee retired in 2010 as CEO of CPS Energy, the nation's largest municipally owned natural gas and electric utility, providing service to more than 750,000 customers in and around San Antonio. He joined CPS in 2000 as senior vice president of Electric Transmission and Distribution Systems.
Having built a prestigious career in the electric utility industry, he founded the consulting firm Lee Energy Partners, LLC, in 2010, providing advice to clients on electric and gas industry issues. He also has taught Corporate Strategy at the Utility Executive Course sponsored by the University of Idaho.
Prior to joining CPS, Regent Lee served as COO as well as CEO and general manager of Austin (Tex.) Energy during the 1990s. He started his career at General Electric and in 1976 joined the newly created Texas Utility Commission (TUC), assuming responsibilities for regulation of electric utilities in the areas of engineering, construction, transmission and distribution systems. He testified as an expert witness in certification and rate proceedings and prepared rules and regulations for the state's electric utilities.
He has held numerous prominent positions in the industry, including serving as a member of the ERCOT Board of Directors and Technical Advisory Committee, while also holding leadership positions in the Texas Public Power and Large Public Power Associations. He is a member of the University of Texas at Austin Engineering Advisory Board, the National Society of Black Engineers, the Texas Alliance for Minorities in Engineering and the Texas Society of Professional Engineers.
Regent Lee serves on both the University of Texas Health Science Center at San Antonio Cabinet and the President's Council, University of Texas at San Antonio's Development Board, Southwest Research Institute Board of Directors, San Antonio Medical Foundation Board of Directors, Texas Biomedical Research Institute Board of Directors and the Texas Reliability Entity Board of Directors.
Regent Lee and his wife Sarah have three children and one grandson.