Wednesday, March 16, 2022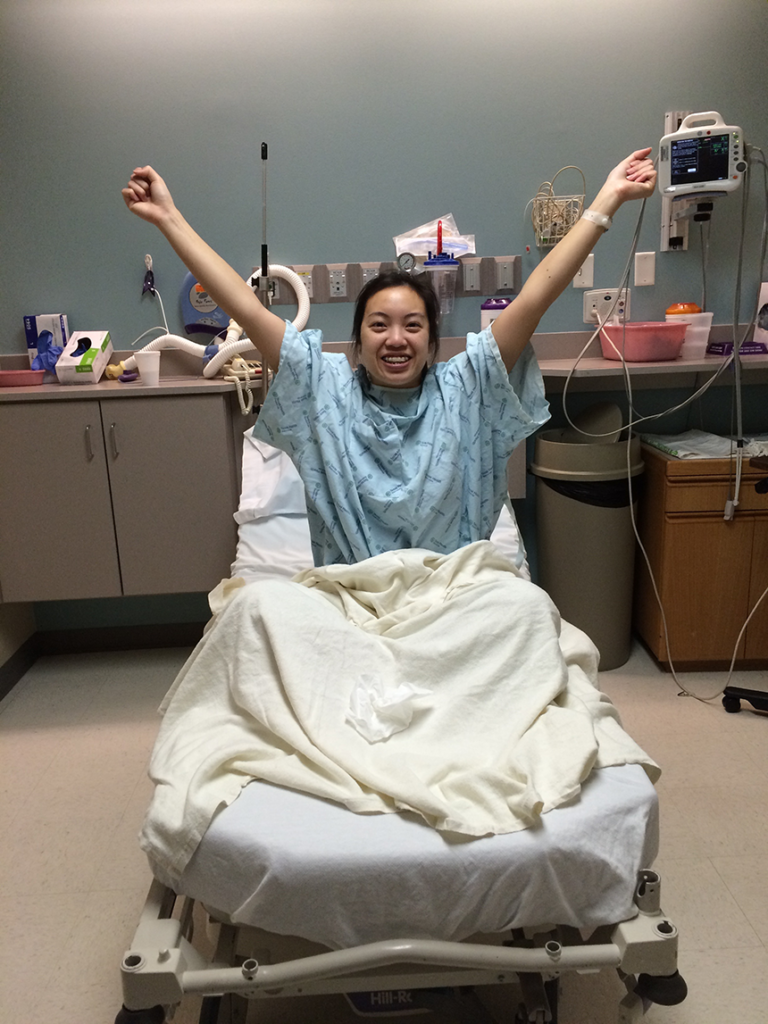 Aivien Do was in her first year as a medical student at The Texas College of Osteopathic Medicine at The University of North Texas Health Science Center at Fort Worth sitting through a class as different slides of various ailments were shown. First a chest X-ray of pneumonia, plural effusions, and then it came up, an image of a widening of the mediastinum … it was an X-ray of Hodgkin's lymphoma. Do broke down in tears in the middle of class and had to leave.
Classmate Annum Faisal went with Do, trying to comfort her as a torrent of memories flooded back into Do's mind. Do spent the next four hours with Faisal, crying. It was only a few years earlier that Do had received the devastating news herself: she had cancer, and it was Hodgkin's lymphoma.
This is the inspiring story of how Aivien Do defeated cancer, regained her mental health and is now on the doorstep of matching into Psychiatry.
Months of pain
It was fall 2015, and Do was an undergraduate student at the University of Texas at Austin polishing up a neuroscience degree before getting ready to enter medical school. She was very active, and one of her passions was dance, which she was doing six days a week. It was during this time that she started feeling fatigued and began experiencing insomnia, agonizing pain and other issues.
Despite visits to physicians and specialists, nothing seemed to help, and her pain was increasing. Then in January 2016, she came down with the flu, and her illness would simply not go away. Her frustration was mounting, even to the point where her family took note that she was not herself.
Do was skipping classes, feeling incredibly fatigued, battling crippling pain and unable to walk for even five minutes. She then visited a university doctor, who took a chest X-ray. After reading the results, he called her back numerous times, leaving voicemails for her to call him back immediately.
"He told me to go to the emergency room that night, that I had a widening of the mediastinum," Do said. "I went into full panic mode, Googling different possible diagnoses."
At the ER, Do did a CT scan, and the results showed she had a partially collapsed lung. They told her this was caused by one of two things, atypical pneumonia or a mass tumor. It was the latter.
After a biopsy, she learned she had Stage 3B Hodgkin's lymphoma. Just one week after being diagnosed with cancer, Do was undergoing treatment with very little time to process the fact that her life had just been turned upside down.
Her pain did not subside either — in fact, it got worse. She was treated aggressively with chemotherapy, which immediately made an impact on the tumor, but her pain skyrocketed.
"I was doing treatments every other week, and one day, I woke up in intense pain, so much so that I was crying because it was as if someone had gone in and was twisting my heart," Do said.
The cause of her pain was also the antidote to her cancer. The chemotherapy had shrunk her tumor so quickly it left a bit of a vacuum in her chest, causing extreme pain and tightness.
That was just one of the setbacks along the way. Her mediport became infected, she suffered allergic reactions from chemotherapy, and she had broken up with a friend with whom she was in love. Do had hit rock bottom.
Putting herself back together
Cancer affects people in many ways — physically, emotionally and mentally. It is the mental battle that most survivors say is the hardest part. Do was no different. Her last treatment was on July 18, 2016, and soon after, she was told everything had been resolved and she was cancer-free. But Do wasn't "well".
"I knew that I needed to take care of myself," she said. "After it all happened, I had to process everything. I felt very alone. I wasn't sure how to take the next step in life. Through treatment, you learn very quickly that it's hypothetically day by day, but really, it's hour by hour. You also have a team that's taking care of you the entire way. But after the treatment ended, there was a huge drop-off. My body was great, but my mind was still in a fog. I had to put myself back together emotionally."
Do withdrew from school in February 2016, following her diagnosis and returned in September of that year. Upon return, there was a difference. Her classmates were talking about weekend plans and parties, while she was just concerned with getting home and resting.
Do, who was a phenomenal student, had become miserable. She was having trouble concentrating in school and was taking out her frustrations on herself.
"I was so frustrated with myself," she said. "I was ready to get back to it — dance, school and everything else, but I realized my body just wasn't able. I had lost muscle mass and stamina, and I was just going to have to work my way back up."
Do found comfort in one of her passions: dance. She leapt back into it, joining a dance apprenticeship and later becoming a dance instructor.
"I love to dance so much, and the community was so supportive that I was able to embrace my passion once again."
She completed her bachelor's degree in December 2016. From there, Do knew she wanted to attend medical school. Despite having to retake the MCAT and revise her personal statement, Do's resiliency brought her to TCOM in summer 2018.
Using her struggles to help her patients
The origins and cause of Hodgkin lymphoma remain a mystery, but it has been called the cancer that you want to have if you have one.
The five-year survival rate for those diagnosed with Hodgkin lymphoma is 87 percent. For those with Stage 3B Hodgkin lymphoma, it is nearly as high, at 80 percent. This made Aug. 19, 2021, a milestone day for Do and her family, as she became five years removed from her last treatment. She and her family celebrated.
Do was also entering her fourth year at TCOM, that time in a medical student's life for choosing a specialty.
She selected oncology, right? No – Do decided to be a psychiatrist.
"Even before I was diagnosed, I loved talking to people, hearing their stories and learning about the deep moments they have experienced," she said.
"The mental game and the emotional journey that I went through was something I felt like I could address in psychiatry – that path of putting yourself back together that to me felt more full circle."
As Do approached Match Day with anticipatory excitement, she had one last hurdle to clear before she felt ready to become a doctor.
Why did it take so long to diagnose her condition, she wanted to know? Her studies at TCOM led to the answer.
"At first, I felt like I had slipped through the cracks after going so long without being diagnosed, but after learning about how unusual my presentation was, I could finally appreciate the kind of clinical thinking and work up that I had undergone.," Do said. "It gave me a complete view, and I felt more at peace with myself and ready to become a physician."
Going into the match, Do is grateful for all of the people who have supported her throughout her journey, especially her family and partner Rocco.
"We all know that doctors are the worst patients, right?," said. Do. "Well as a patient, sometimes it is hard to remember that healing is a process. Even now when I am frustrated for not being smarter or stronger, he is the one who reminds me of what I had overcome to get to this point, especially when I forget myself. He has truly been my rock through so much, and I am so excited to be couples matching with someone so incredible."
A self-described "happy, go-lucky, peppy, 23-year-old girl" six years ago, Do has grown and come through her own experience. She now feels ready to have those heart-to-heart conversations with her patients, to give them comfort in some of their darkest hours.
"I hope to take my patients through some very intimate talks, so I can help them on their journey as I was helped through mine."
Originally posted on unthsc.edu