Tuesday, June 21, 2022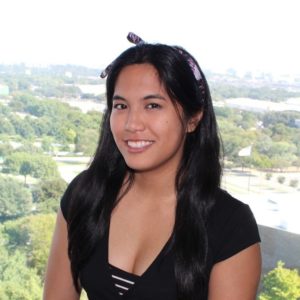 Graduating Ph.D. student Anna Galvin, MSN, RN, would like more nurses to know how great a fit public health is to their profession.
"If I could convince more nurses to build their public health background and perspective, I would. Nursing and public health are a perfect combination," Galvin said, as she reflected on the Ph.D. in Public Health Sciences degree she completes this summer — with a focus on health behavior research — through The University of North Texas Health Science Center at Fort Worth's School of Public Health.
Following graduation, Galvin will embark on a postdoctoral fellowship and research-track assistant professor position at the Cizik School of Nursing, University of Texas Health Science Center at Houston, UTHealth branch, department of research.
Her appointment begins in September 2022, and she will be engaging in research, co-teaching and service.
Galvin was invited to four other fellowships around the country but selected UT Houston because of the unique, hybrid opportunity it provides. The program gives her the chance to sharpen her teaching skills under Cizik faculty mentorship, while taking her research portfolio to the next level.
At Cizik, she will continue working in the research area she has pursued during her HSC doctoral program: sexual and reproductive health, especially as it relates to youth and families experiencing homelessness.
One of Galvin's top goals centers around improving pregnancy outcomes and the overall health of women before, during and after pregnancy. Her work along this path at HSC has been with Dr. Erika Thompson and Dr. Stacey Griner. Galvin is hoping there may be ways to continue collaborating with these two faculty members in other ways down the road.
Among her reasons for choosing Cizik as her next career step is also that Galvin is a Texas native with a great fondness for her home state.
"My nursing and MSN degrees were both completed in Austin and coming to HSC for my doctorate was exactly where I wanted to be," she said. "My husband is a UNT Denton graduate, and when I learned that UNT and HSC were part of the same system, I was even more excited about applying to the HSC School of Public Health.
"Fort Worth is a great place to live," she continued. "It feels comfortable, and the cost of living is very affordable. It has that smaller-town-in-a-big-city feel, while having lots of great things to do like in Austin, which was important to me."
Staying in Texas will also provide a great support network for Galvin and her husband, who are expecting their first child in August.
It will be a very busy summer planning for their new arrival, defending Galvin's dissertation and moving and getting ready for the fellowship.
"It's a lot to plan for, but it's very doable, and it helps to know we can rely on nearby support from the excited future grandparents on both sides of our family as the summer and fall roll ahead," she said.
Galvin credits HSC for preparing her well for her new fellowship position, helping to make her "more marketable" in her career and for providing the valuable public health foundation that she was seeking.
"One of my first professional experiences was as a pediatric nurse," she said. "I began to see my future in public health while working on my master's degree around that time. I later worked in newborn screening for the Texas Department of State Health Services, where our focus was on helping children live healthy lives."
In those roles, Galvin saw many health inequities and the barriers people faced in connecting with the care they needed.
"I wanted to know why those problems kept occurring and how to help the community get past them," she said.
"Adding the public health perspective to my experiences in nursing helped clarify many of those questions and brought me to this stage," she added. "The research, service and teaching I will continue in Houston is stronger because of what I've learned at HSC and the initiatives I've worked on with School of Public Health faculty like Drs. Thompson and Griner."