Tuesday, April 12, 2022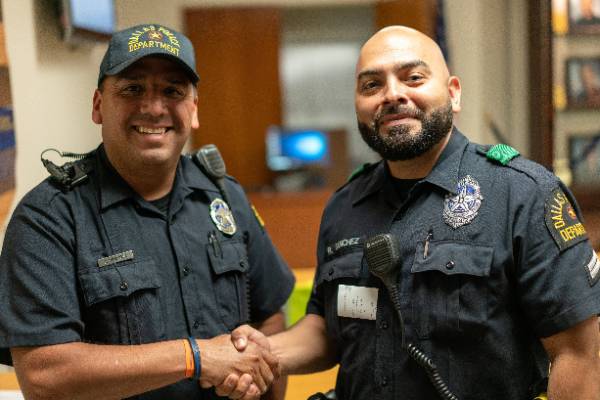 Texas law enforcement officers have a new tool to support their mental health. Today, at the Texas Police Chiefs Association annual conference, Jeff Spivey, Executive Director of the Caruth Police Institute (CPI) at University of North Texas at Dallas (UNT Dallas) announced the launch of the Texas Law Enforcement Peer Network. The Peer Network is a statewide program designed to give every Texas law enforcement officer access to a trained peer to address stressors, trauma, fatigue, and other needs to combat workforce burnout and end police suicide and self-harm.
"Every law enforcement professional deserves to have access to peer services, but unfortunately due to the size of most police agencies in the State, not everyone does," said Spivey. "This network is meant to fill the gap in access and provide any Texas law enforcement professional the ability to connect with a peer."
In recent years, suicide among law enforcement officers has been on the rise, eclipsing line-of-duty as the most common cause of death among officers. First responders, including law enforcement officers are at increased risk for suicide because of the environment in which they work and job-related stress. The Texas Law Enforcement Peer Network is the first of its kind in the country and organizers plan to set the gold standard for others to follow to end the epidemic of law enforcement suicide. The goal is to make Texas a zero-suicide state among law enforcement by creating a positive pattern for mental health resource utilization across the state.
"When we began designing the peer network in 2019, we set two primary goals; to have the healthiest law enforcement workforce in the country and to end law enforcement suicide in Texas," said B. J. Wagner, Senior Vice President of Health and Public Safety at the Meadows Mental Health Policy Institute and former Executive Director of CPI, "and created a peer network without geographical boundaries throughout Texas. We have boldly set a zero-suicide goal for 2023 and will set that goal every year for our law enforcement officers serving Texas communities."
The Texas Peer Network, operated by CPI at UNT Dallas will, address this significant issue through access to resource directories, strategic partnerships, and training and technical support to regional hubs as they recruit and train peers in trauma-informed peer-to-peer support. Peer Network volunteers are active law enforcement officers who have received specialized training, designed by subject matter experts, and approved by the Texas Commission on Law Enforcement, to assist their peers in managing the day-to-day stress and trauma associated with life as a police officer.
"UNT Dallas and Caruth Police Institute are proud to stand up the nation's first statewide peer network to help first responders cope better with the stresses of the job and explore solutions with trusted and trained peers," said UNT Dallas President Bob Mong. "They can reach out anonymously, of course. We also appreciate our partners at the Texas Commission on Law Enforcement and the Meadows Mental Health Policy Institute."
Officers seeking assistance will access Peer Network services via a confidential phone app, network phone line, or through the regional hub. The app provides both peers and officers in need of assistance an immediate and direct connection to support as well as a link to resources. Services are free and completely anonymous.
Dustin Schellenger, Director of the Peer Network State Office at CPI at UNT Dallas explained how the Peer Network was intentionally developed with respect for officers personal and professional needs as well as an understanding of law enforcement culture. "We have kept the focus of this network on the officers and maintaining their trust by keeping their anonymity and overall health our priority," said Schellenger. "Every part of this program from the app to the training we provide, focuses on ensuring the cultural competency of the resources we provide to the officers we serve."
The idea for the Peer Network was first raised by the CPI Executive Advisory Board in 2019 and was firmly established during the Texas 87th Legislative Session. Senate Bill 64 provides funding for a coordinated statewide effort focused on law enforcement peer-to-peer support and suicide prevention training. CPI at UNT Dallas serves as the home for Texas Law Enforcement Peer Network and coordinates statewide services and three regional offices located in Irving, Belton, and Pharr.