Tuesday, May 3, 2022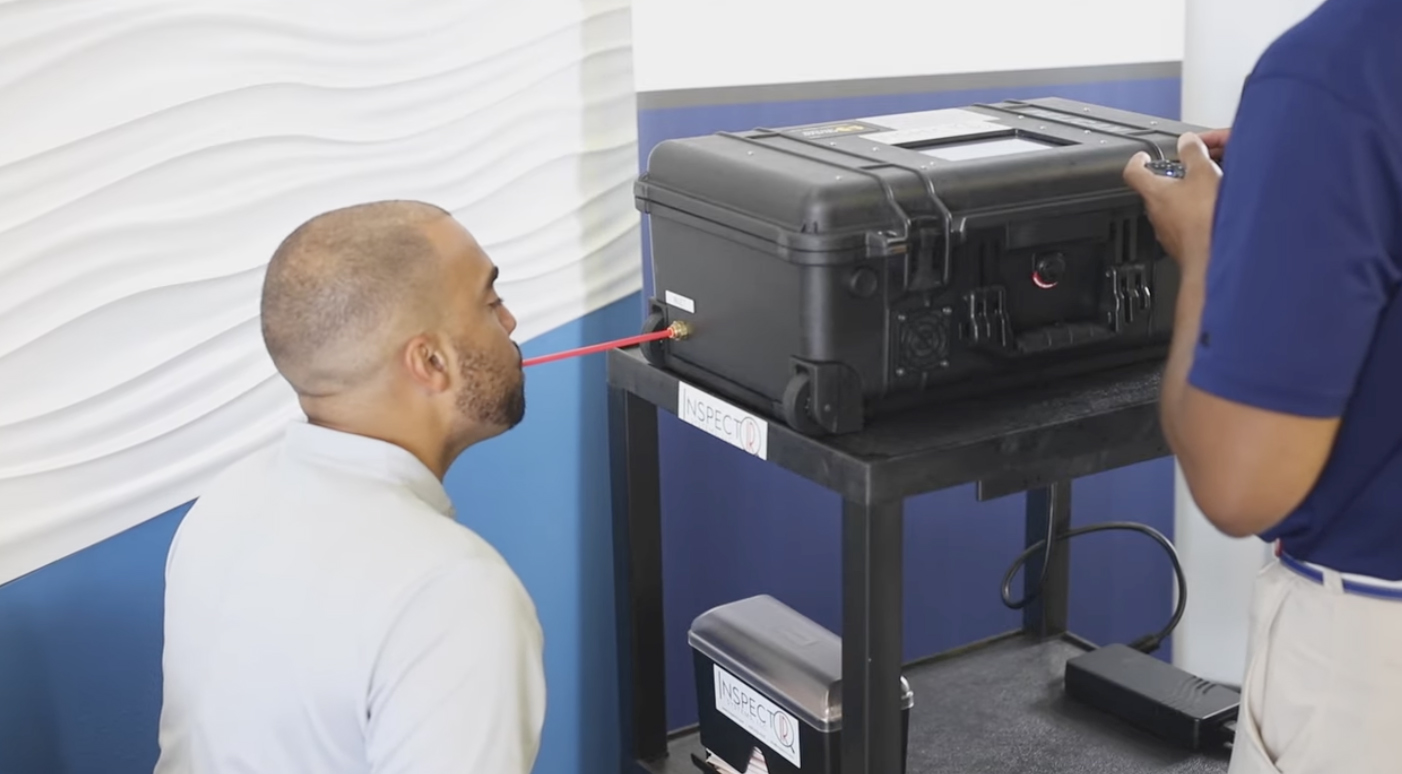 The University of North Texas has received notice that its licensed technology to InspectIR Systems, of Frisco, Texas, has been granted Food and Drug Administration Emergency Use Authorization (EUA) for use as a breathalyzer detection for SARS-CoV-2 (COVID-19). This important approval provides a faster, easier and highly accurate method for detection of COVID-19. This is the first UNT-sourced intellectual property to receive FDA approval, marking a significant milestone for UNT as a Tier One research university.
News of the FDA approval already has been shared nationwide, appearing in outlets like Time, NBC News, CNN , The New York Times and Forbes.
The technology was originally focused on detecting Volatile Organic Compounds (VOCs) on human breath to quantify use of drugs, such as opioids and cannabis. As the effects of COVID-19 were felt across the nation in the early days of the pandemic, UNT chemistry professor Guido Verbeck and InspectIR co-founders, John Redmond and Tim Wing, leveraged their civic responsibility mindset and partnership to develop the first diagnostic breathalyzer to gain approval by the FDA.
"When the pandemic started, all of us wanted to do our part," Verbeck said. "We all saw this, solving the problem, as something we needed to do. We take service to not only our community very seriously, but we always discuss how we can address issues and concerns for our world at large. We have a civil responsibility to be a part of solving problems where we can."
Recognizing the unmet need of having a device capable of detecting coronavirus infections in patients' breath, Verbeck redirected his research efforts while InspectIR was able to pivot its business plan to submit EAU with the FDA in July 2020. Verbeck credits InspectIR with managing the process and having the grit and determination that led to the COVID-19 breathalyzer gaining FDA authorization on April 14, 2022.
"This is a game changer in the world of biomedical analysis. It's a paradigm shift. What InspectIR did to get the first breathalyzer is a shift in how we do point of care. It's a non-invasive test. People don't have to be afraid of potential pain in the testing process," Verbeck said adding the technology could lead to possible non-invasive diagnostics for other diseases, including some cancers.
This FDA approval is an important achievement for UNT said Mike Rondelli, UNT associate vice president of research commercial agreements.
"UNT has been commercializing technologies for only six years and, with this approval, the first technology we submitted to the FDA was approved on their submission," he says. "It demonstrates that UNT's Carnegie Tier One research university status is well deserved with this applied research being able to make it from the lab to FDA approval in such a short amount of time. We are excited to celebrate this important achievement with both our faculty and InspectIR. Their teamwork in pivoting during the pandemic provides the opportunity to change how we deal with COVID-19 over the long-term and opens countless new paths to human diagnostics with a rapid, non-invasive technology."
Redmond and Wing are excited about the success and what it means for future collaborations. Wing said much of the success is a credit to Verbeck's ability to teach he and Redmond the information they needed to understand and explain his work.
"I think it's about unity and this partnership and the uniqueness of what we're doing," Redmond said. "Throughout this process, I always felt like UNT was aligned with InspectIR in wanting to do good. Every question we've asked has started with, 'Can we help?' I think the UNT nurtures that."
"I think it's about unity and this partnership and the uniqueness of what we're doing," Redmond said. "Throughout this process, I always felt like UNT was aligned with InspectIR in wanting to do good. Every question we've asked has started with, 'Can we help?' I think the UNT nurtures that."
UNT News Service Phone Number: 940.565.2108
Media Contacts:
Trista Moxley
trista.moxley@unt.edu
940.369.7912