Wednesday, March 29, 2023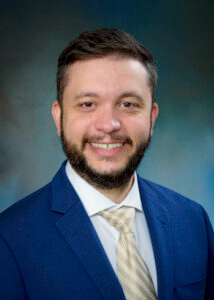 Michael Furtado, PT, DPT, EdD has joined The University of North Texas Health Science Center at Fort Worth School of Health Professions as chair of the Department of Physical Therapy.
Dr. Furtado comes to HSC after 13 years at the University of Texas Medical Branch in Galveston, where he served as founding program director of its hybrid track DPT program, chair of admissions and associate professor and primary faculty for neuroscience and neurological clinical management. A seasoned clinician and practice owner, he is also a Board Certified Neurologic Clinical Specialist through the American Physical Therapy Association.
"As our Department of Physical Therapy continues to flourish, I am confident that Dr. Furtado's history of success and passion for the profession will continue to guide the department on a path of producing exceptional physical therapists who are innovative, curious and adaptable to the changing landscape of healthcare," said Dr. Glenn Forister, School of Health Professions dean.
Furtado was hired following an extensive national search. In the spring of 2021, Dr. Myles Quiben was appointed as associate dean for Academic Affairs and continued to serve as the interim chair of the Department of Physical Therapy. During her tenure, the department has since grown with highly qualified faculty and student-centric learning experiences, expansion of simulation activities into the curriculum and streamlined department processes. The department also opened HSC Physical Health, a clinic that will house clinical services to the community by faculty, as well as spur research and innovation.
Furtado graduated from the University of Connecticut with a Bachelor of Science in pre-physical therapy and Master of Science in physical therapy in 2006. He later earned his Doctor of Physical Therapy from Boston University while he was a practicing physical therapist. He later graduated with a Doctor of Education in Health Professions from AT Still University.
Early in his career, Furtado worked as a staff physical therapist for TIRR Memorial Hermann Outpatient Rehabilitation in Houston, Texas, serving in leadership positions such as the center coordinator of clinical education and senior physical therapist, creating vestibular and balance programs in sports concussion and military veterans.
Furtado specializes in vestibular rehabilitation and in managing the recovery of amputees, and he is widely recognized for his expertise as a Board Certified Neurological Clinical Specialist, with experience treating all types of neurological injuries.
Furtado's professional accolades include various teaching and clinical awards with authorship in several peer-reviewed journals, book chapters and numerous poster presentations. He has extensive experience with public speaking engagements at the local, state and national levels.
"I was drawn to HSC for its strong reputation in health care education, research, service and community outreach," Furtado said. "When I visited campus and met with staff, faculty and administrators, I immediately knew that HSC was where I wanted to transition to in order to collaboratively contribute to the university's mission of improving health and well-being through education, discovery and service."
"I was particularly impressed by the collaborative spirit of HSC, and I am so thankful that I have an opportunity to lead the Department of Physical Therapy. I am looking forward to working with and learning from the talented and dedicated faculty, staff, and students here to achieve continued success as we move forward to advance healthcare and address the pressing health challenges of our time."


From HSC Newsroom - Our People by Kathryn Lytton