Tuesday, June 13, 2023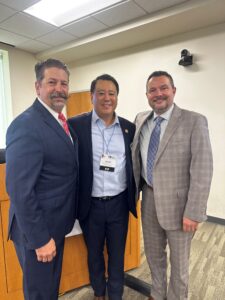 Hail to the Chiefs! Not one, but two faculty members from the Texas College of Osteopathic Medicine were sworn in as the presidents of the Texas Osteopathic Medical Association and the Texas Chapter of the American College of Osteopathic Family Physicians, respectively.
Dr. Damon Schranz, an associate professor in TCOM's Department of Family and Osteopathic Manipulative Medicine, took the oath as president of TOMA, while Dr. David Mason, TCOM's assistant dean of Osteopathic Clinical Education and Professor in the Department of Family and Osteopathic Manipulative Medicine, was sworn in as the president of the Texas ACOFP. Both were sworn in at TOMA's 16th annual convention in San Antonio.
"The opportunity for TCOM to have faculty members lead both organizations at the same time is a special one," Mason said. "We should capitalize on this opportunity by hosting an event on campus this year and spreading news of TCOM's accomplishments throughout the state, such as the recent U.S. News rankings."
Mason is the 67th President of the Texas Chapter of the ACOFP, succeeding a TCOM alumna, Dr. Carol Brown, whose term expired. Schranz is the 102nd President of TOMA and he has been very active for more than a decade serving on numerous committees within the organization.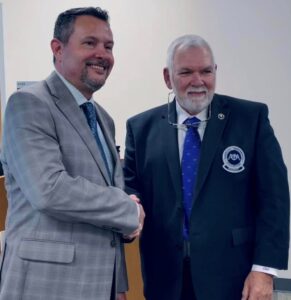 "With TCOM being the premier osteopathic medical education institution in the United States, it is especially unique that we would have the leaders of both of the largest osteopathic societies and organizations in Texas to be led by TCOM medical educators," Schranz said.
The two statewide organizations work very closely together on several issues and advancing and advocating for osteopathic medicine and growing their membership. Those efforts start with students and residents. For both incoming presidents, the students are at the top of their agendas.
"I would like to focus on engaging students and residents in Texas interested in joining TXACOFP," Mason said. "Membership for both groups is complementary. We should be addressing the interests and concerns of physicians in training to grow our membership and provide meaningful resources for them."
Mason and Schranz bring a wealth of experience to their new roles as president. Mason has served on several national ACOFP Committees related to osteopathic education and is currently on the OMT Workshop Work Group, the Osteopathic Education Committee and the CME Conference Advisory Board.
Schranz is a past President of the Texas Chapter of the ACOFP from 2009-10 and has been a member of the TOMA Board of Trustees for more than a decade.
"It has been a long time coming," Schranz said. "I have witnessed good and not-so-good presidents in my tenure with TOMA. I have learned what to and not what to do by serving in this capacity for so long. I strive to represent the institution of osteopathic medicine to my fullest capabilities. It is most definitely an honor and a very special goal that I set forth many years ago."
The Texas Osteopathic Medical Association is the oldest statewide osteopathic medical association in the nation. Founded in 1900, this society serves more than 1,400 osteopathic physicians and trainees across the state of Texas. The Texas Chapter of the ACOFP was founded in 1962.

From HSC Newsroom - Our People by Steven Bartolotta