Wednesday, May 24, 2023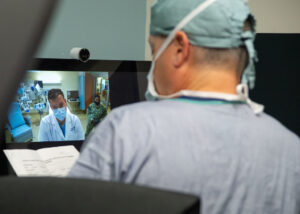 Photo credit: Naval Medical Center San Diego
The pandemic brought telecommunication technology to the front lines of health care. A growing body of evidence shows that telementoring — the practice of using technology to guide less experienced health care workers from afar — can improve rural health by building local capacity to treat patients, reducing professional isolation, improving access to care and allowing sharing of best practices.
The Rural Telementoring Training Center, a federally funded program housed within the Center for Health Policy at The University of North Texas Health Science Center at Fort Worth, is set to launch an app designed to refine this new, innovative form of outreach.
The Rural Telementoring Quality Measure Toolkit App can help teams interpret which aspects of their telementoring programming (staffing, content, technology, marketing) are strong, and which ones still have room to grow. This critical tool for program and design evaluation was developed based on findings from published literature and national experts.
Waridibo Allison, MD, PhD, FACP, CPE, FIDSA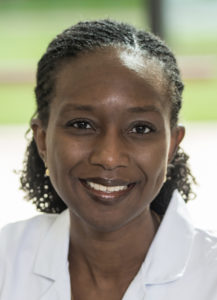 "By disseminating a telementoring quality measure toolkit widely via the app, we hope to improve recognition of the importance of evaluating the quality of different telementoring models," said Dr. Waridibo Allison, principal investigator and director of the Rural Telementoring Training Center — as well as HSC's vice president of Health Policy and director of the university's Center for Health Policy. "While our focus is on rural America, the toolkit is applicable to telementoring for urban settings. Our ultimate goal is to support and see health care telementoring that is measurably of high quality, delivered across America to benefit rural and other communities."
To celebrate the app's launch, the RTTC is hosting virtual events from Tuesday through June 2. "Leveraging Digital Solutions to Transform Rural Health" will feature some of the most prominent forward-thinking thought leaders in the telementoring field giving presentations and discussing the topic. These events are free and open to the public.
"The Rural Telementoring Training Center provides a unique opportunity for rural health professionals to network, build skills and maintain their autonomous practice," said Dr. Chris Salyers, director of programs and evaluation at the National Organization of State Offices of Rural Health. "Through this new app, rural health professionals will have even greater access to high-quality mentoring resources facilitated by the conveniences of a mobile device."
The Telementoring Quality Measure Toolkit Mobile App features resources to support the design, launch and evaluation of telementoring programs that improve rural health. The app features:
Introduction to six models of telementoring
Steps through the RTTC's individualized technical assistance process
Quality measure checklists for five telementoring models
All app content is accessible without internet access but can only be installed and updated when the device is connected to the internet. The app will be available on all major platforms.

Event schedule:
Tuesday, noon-1 p.m.
"What Rural Health Leaders Are Saying" featuring Dr. Bill Auxier and Sydney Grant from Rural Health Leadership Radio.

May 31, 11 a.m.-noon
"The Intersection of Digital Equity and Rural Health: Key Considerations for Telehealth," presented by Danielle Louder, co-director of MCD Global Health, U.S. Programs and director of Northeast Telehealth Resource Center at Medical Care Development Inc.

June 1, 1-2 p.m.
"Telementoring Solutions for Incarceration Health Care" featuring Dr. Charles Mathias, policy co-investigator at the Rural Telementoring Training Center and associate professor in the Department of Psychiatry and Behavioral Sciences at UT Health San Antonio.

June 2, noon-1 p.m.
"Panel Discussion: The Future of Rural Medicine" featuring BJ Biskupiak, Montana Department of Public Health and Human Services; Raudel Bobadilla, UT Health San Antonio; Dr. Paula Stigler Granados, San Diego State University; and Dr. Jeffrey Weiss, Icahn School of Medicine at Mount Sinai. The discussion will be moderated by Dr. Waridibo Allison.
To register for the events and learn more about the app, visit ruraltelementoring.org/mobile-app-launch


From HSC Newsroom - On Campus by Eric Griffey