Wednesday, January 4, 2023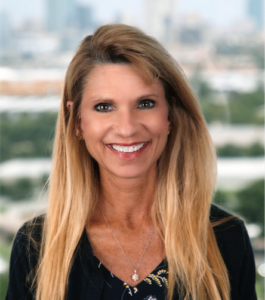 SaferCare Texas is once again helping people in rural Texas communities gain access to health care and other vital services, this time with a new telehealth hub set up in Jeff Davis County.
In November, the patient safety-focused program of The University of North Texas Health Science Center at Fort Worth set up the telehealth hub in Fort Davis, a far West Texas town located in Jeff Davis County. The county's population is 2,274.
In 2021, the team created a similar setup in Pottsboro, a town 90 miles north of Dallas with a population of 2,160. HSC Health, the university's academic clinic practice, is the medical provider for both.
As was the case in Pottsboro, the SaferCare Texas team used a centrally located library as the venue for its telehealth hub in Jeff Davis County. The library offers many nontraditional services, including a children's food pantry and a community checkout counter where patrons can borrow everything from a lawn mower to a crockpot. The library also offers online homework help, teacher resources and a business center with Wi-Fi, fax and copy machines.
"These outreach programs with libraries and other community venues align perfectly with the HSC mission to create solutions for a healthier community," said Dr. Teresa Wagner, SaferCare Texas interim director and clinical executive for health literacy. "SaferCare Texas has established a history of preventing harm in underserved communities through programs that bridge gaps in services that are preventing people from living healthy, productive lives. Leveraging librarians and many others, including community health workers, we meet people where they are and transform lives to improve the lives of others."
In the wake of the COVID-19 pandemic, the need for these services in Jeff Davis County reached a tipping point. Like many areas in the rural parts of the state, Jeff Davis County was facing the simultaneous challenges of an aging population (the average age is 58), rampant poverty and a critical lack of access to health care.
The only primary care office in the county employs one physician and a nurse practitioner. The nearest hospital, Big Bend Regional Medical Center, is 22 miles away in Alpine, and that facility has been designated a small "frontier hospital" by the U.S. Department of Health and Human Services. The closest full-service hospitals are located approximately three hours away in both Midland/Odessa and El Paso.
In March, after seeing what the SaferCare Texas team was able to accomplish in Pottsboro, leaders of the Jeff Davis County Library reached out to HSC. The library had just secured funding to install a telehealth hub in the library and in its Mobile Comunidad, an all-in-one mobile outreach van that provides food, books, social services, health care and more.
Jeanine Bishop, past president and current treasurer of Friends of Jeff Davis County Library and co-founder of the Mobile Comunidad, and FJDCL President Vicki Gibson dreamed up the Virtual Connection Center during the pandemic when hospitals were full and not accepting transfers from rural areas. They modeled their hub after the one in Pottsboro, Bishop said.
"We know there are a lot of people who live out here, particularly elderly people, who may have an appointment in one of those bigger cities, and it's a 15-minute follow-up appointment," Bishop said. "The doctor is going to look at them and say, 'You look good. Keep taking your medicine. Call me in six months.' And they just made a six-hour round trip for that.
"What we're hoping is that this whole setup with the Virtual Connection Center, and eventually the van, will make people's lives easier and make sure that they are doing the right things for their health," she continued.
To introduce the center, the library hosted what Bishop called a mini health fair. Library leaders also plan to organize a relaunch of the platform in hopes that more people take advantage of its versatility for offerings such as mental health services.
"We're hoping that more people come in the library, see it, get exposed to it, read the various press releases and realize what a valuable service it is," she said. "The ones who have used it so far are thrilled."
The need for similar services in other parts of the state will only intensify. Roughly 80% of Texas is considered rural. According to recent data released by a major hospital group, 26% of Texas' rural hospitals are at risk of closure. That coupled with the skyrocketing cost of health care has made the need for affordable access all the more urgent.
"We measure the success of our programs by sustainability," Wagner said. "SaferCare Texas strives to bridge communities to health services. These programs have not only achieved that goal but also connected people to other much-needed services to live healthy, productive lives while reducing preventable harm that comes from lack of health care and other essential services. We've been pleased to see that, once started, program champions work diligently to sustain the program within their communities."
From HSC Newsroom - Community by Eric Griffey