Wednesday, May 31, 2023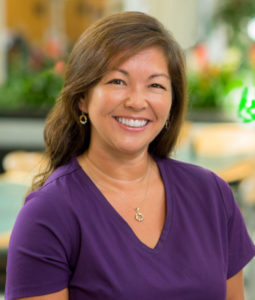 She's back! Dr. Maria Crompton is the Texas College of Osteopathic Medicine's new director of Rural Medical Education at The University of North Texas Health Science Center at Fort Worth.
Crompton, a TCOM Rural Track graduate in 2008, has been a faculty member serving in both clinical and academic roles for three years since returning to Fort Worth from her rural east Texas practice.
"This means everything, more than I can describe in words," Crompton said. "The training I had in medical school and residency, which I attribute to incredible preceptors and faculty, prepared me well for rural practice — so being able to now pay it forward is quite meaningful.
"I left a beautiful small town, a wonderful work family and an amazing patient panel that I miss dearly. I made a promise to my patients that I was leaving so that I could send out at least three more in my place, not just there but throughout Texas. I meant that. And this role certainly helps fulfill that promise."
As the director of Rural Medical Education, Crompton will develop and implement a strategic plan to expand the programs, recruit and evaluate rural training sites for the Rural Scholars students on clinical rotations, and advance the ROME pre-clinical curriculum in preparation for rural practice.
One ROME outreach program is the Big Bend Border Wellness trip. This Medical mission takes a team of inter-professional learners interested in rural medicine for on-site training in remote areas. The students, faculty and residents provide free clinics offering health screenings, physical exams, OMT and personalized behavioral counseling in one of the most underserved areas of the state. Under Crompton's leadership, TCOM students have also begun completing lifestyle assessments and screening patients for social determinants of health, creating individualized plans of action to address the patient's whole health.
Crompton wants TCOM's Rural Medical Education programs to increase its visionary collaborations with under-resourced areas as a way to give back and help create healthy sustainable communities throughout Texas, beginning with our dedicated rural training sites.
"I want the students to feel empowered by seeing that they can make an impact on health outcomes, even during training, and be seen as a value-add within these communities," she said. "I hope our gratitude for our rural faculty and preceptor sites will become palpable."
In the recent rankings released by U.S. News & World Report, TCOM was ranked No. 47 in the nation out of 161 schools for graduates practicing in rural areas. Of the 19 Rural Scholars graduating this month, 12 matched in family medicine, three matched in additional primary care fields of pediatrics and internal medicine, two in emergency medicine, one in a transitional year and one in anesthesiology.
Living rurally brings a wide range of hurdles that complicate whole health, such as transportation to health care providers, limited access to healthy food choices and chronic stress. Crompton is dual board certified in family medicine and lifestyle medicine, bringing a unique skill set to improve the health of these vulnerable populations.
"I think that being able to train all future physicians with a lifestyle medicine and preventive medicine lens is imperative," Crompton said. "It is even more valuable when considering rural or any under-resourced locations. Maintaining focus on how to keep our communities well — physically, mentally and spiritually — will decrease much undue stress and financial burden that comes with managing chronic disease, improving quality of life and longevity."

From HSC Newsroom - Our People by Steven Bartolotta
https://www.unthsc.edu/newsroom/story/tcom-rural-track-graduate-returns-home-to-lead-the-rome-program