Tuesday, July 19, 2022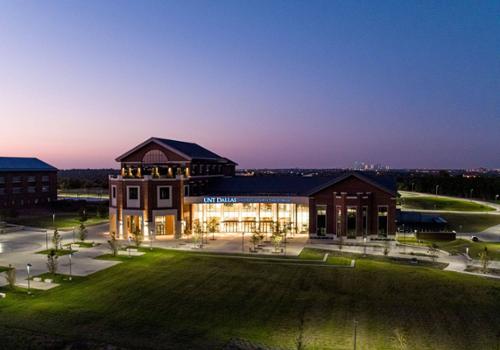 In Spring 2022, Hector Govea joined UNT Dallas as the new University Registrar. With the university poised to launch new online programming and strengthen academic pathways, Mr. Govea was ready and eager to take on the new responsibilities after a recent stint as University Registrar at Tarleton State University.
In addition to his strong experience and background in higher education, Govea received his Master of Data Analytics and Master of Business Administration Degrees from Southern New Hampshire University. He also earned a Bachelor of Mathematics Degree while attending the University of Texas of the Permian Basin, where he gained valuable experience in various capacities from 1997 to 2021. Govea also served the University of Texas with more than 16 years of Registrar Office experience and nine years of institutional research experience.
At UNT Dallas, Govea plans to focus on implementing processes to create efficiency and serve all of the internal and external patrons. "During the next year, our office will be focused on learning how to better serve the university, as we make necessary changes to help our students, staff, and faculty," said Govea. "I also have my sights set on implementing processes that streamline duties for all team members in the Registrar's Office."
Believing that managing the methodologies in the Registrar's Office will create success, Govea's strategy is set to create service ticketing and improve communication, transparency, success measurement, and staff recognition of accomplishments.
One accomplishment the department already is celebrating is the promotion of staff member Jamie Lee from Assistant Registrar to Associate Registrar. Lee was promoted in Spring 2022 after initially joining UNT Dallas as the Degree Audit Coordinator in 2018.
Lee is excited about fulfilling her new duties, which consist of managing the daily operations of the Registrar's Office. She believes her previous role on the team has provided some valuable tools to aid her success as the Associate Registrar. "I'm looking forward to performing the duties in my new position and revamping our protocols, which will ensure that our students are receiving accurate information and timely responses," said Lee. "I also hope to make certain that our team experiences high morale and is provided training initiatives that will enhance and complement our skill sets for future growth."
Dr. Dawn Remmers, Assistant Provost, oversees the Registrar's Office and is excited about the future of the department. "I am pleased to have Hector and Jamie leading the Registrar's Office toward the future of UNT Dallas," she said. "Their expertise and skills are marvelous complements to each other; I could not be happier with the team we have assembled."
The Registrar's Office is a vital part of many student support services including registration, degree verification, transcripts, student data, credit transfer commencement and more.