Friday, February 12, 2021
UNT World is not only a place where some of you earned degrees, and where we love to work. It's also where some of you fell in love, actually. In celebration of Valentine's Day, we present three UNT World love stories:

Barbara & Scott Heffley
I met my husband, Scott, in 1989 while we both worked in the UNT Computing Center (currently known as UNT System IT Shared Services). Scott was working part-time while attending classes. I was working there full-time.
At first, we were friends. Over time, we began dating. Scott continued his studies and earned a Biology degree and teaching certification.
We fell in love attending many on-campus events together, especially musical performances and movies. We got married in 1996.We have two children -- both UNT Eagles. Our daughter, Annie, graduated from UNT in Spring 2020, with a degree in English. She was a member of the Green Brigade drum line, which was a dream of hers.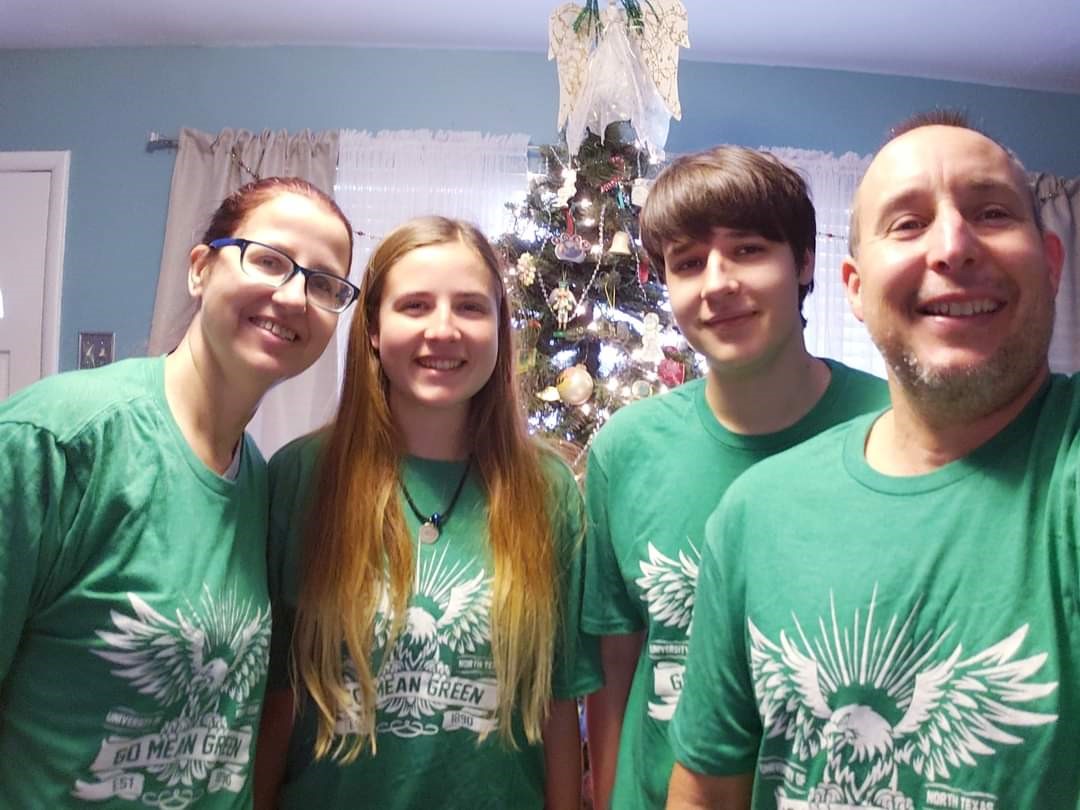 Our family has enjoyed attending football games at Apogee Stadium and watching the band perform. Our son, Joe, is a junior in the UNT College of Engineering, studying Computer Science.
I recently retired from the UNT System after 33 years. Scott continues teaching Biology at the high school he attended: Denton High. We live close to UNT and our family of four has enjoyed many UNT campus events together over the years. We look forward to more.
We are grateful to be a part of the UNT World family.

Rebecca Herman & Mark Nichols
My now-fiancé, Mark Nichols, and I met while attending UNT in the Fall of 2012. We were both Hospitality Management majors and enrolled in Principles of Food Preparation. We rode the same bus to and from campus, and one day when I was waiting for the bus to leave after class, he got on as well. I had regularly been sitting in the seat behind him on the days we had seated instruction, so we had talked a little bit. Now on the bus, I boldly said, "Hello!" He sat down beside me, and we talked for a few minutes, but my stop was the first stop, so I got off pretty quickly.
Fast-forward to the day we received our first tests back. I got a C (oof) and I saw that he got an A, and I asked if he would help me study for the next one (I sat behind him, so maybe I snooped). We started hanging out a little and then eventually started dating. We were not partners for the cooking days of class, but our stations were back-to-back, so our partners knew we were starting to date, and mine constantly was giving me a hard time about it, in a joking manner.
Even though we really connected in the Environmental Science Building and on the bus for the first time, Chilton Hall holds a special place in our hearts because that's where we had Food Prep and where the Hospitality program lives!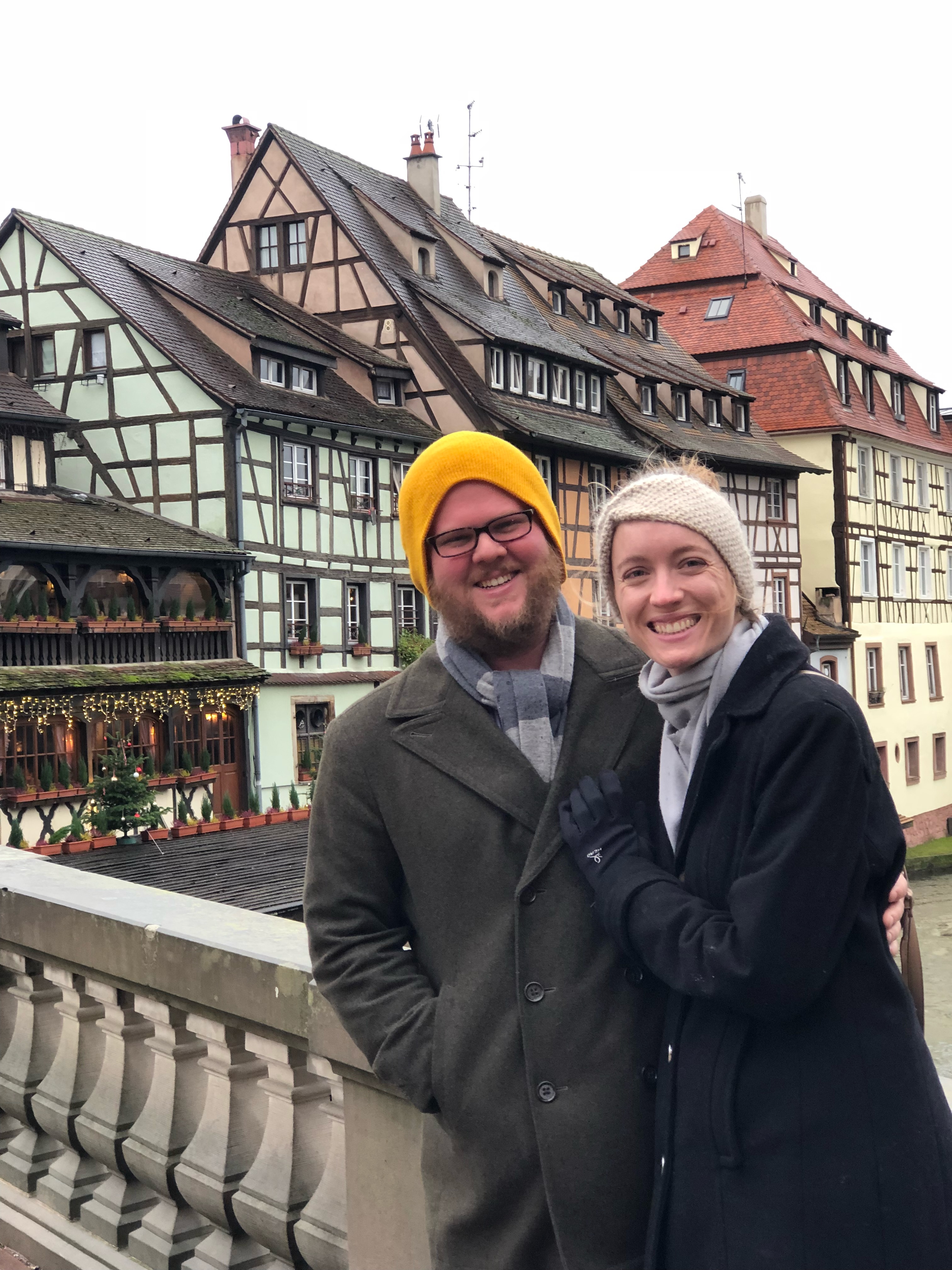 Before I started my position as Assistant Director, Event Services at University Union this year, we always came back and visited because it's where we first fell in love. We got engaged in Paris, but I'm pretty sure if that trip wouldn't have happened, UNT and/or Denton were on his list of places to propose.
Ann and John Howington
I met my husband, John Howington (BFA 1983) back in the fall of 1980 when we were both studio art majors when UNT was known as North Texas State University.
I recognized and admired his accomplished artwork before actually meeting him. We met for the first time in a mutual friend's dorm room in Bruce Hall – I remember listening to jazz records and discussing watercolor techniques together. I fell in love with John during a winter break train trip through the Copper Canyon on our way to Mazatlan, Mexico.
We brought backpacks, a guitar, and a surfboard on the trip. It was very romantic to cruise through the Sierra Madre mountains together, surrounded by the delightful Mexican people. We could not communicate with words, but playing the guitar broke the language barrier. One thing led to another and now in 2021, we still live in Denton where we raised four children, two of which have degrees from UNT, and one who is currently working on his MBA. Incredibly, I now work in the administration office of the UNT Department of Studio Art, the very department where we met as students over 40 years ago.