Friday, April 7, 2023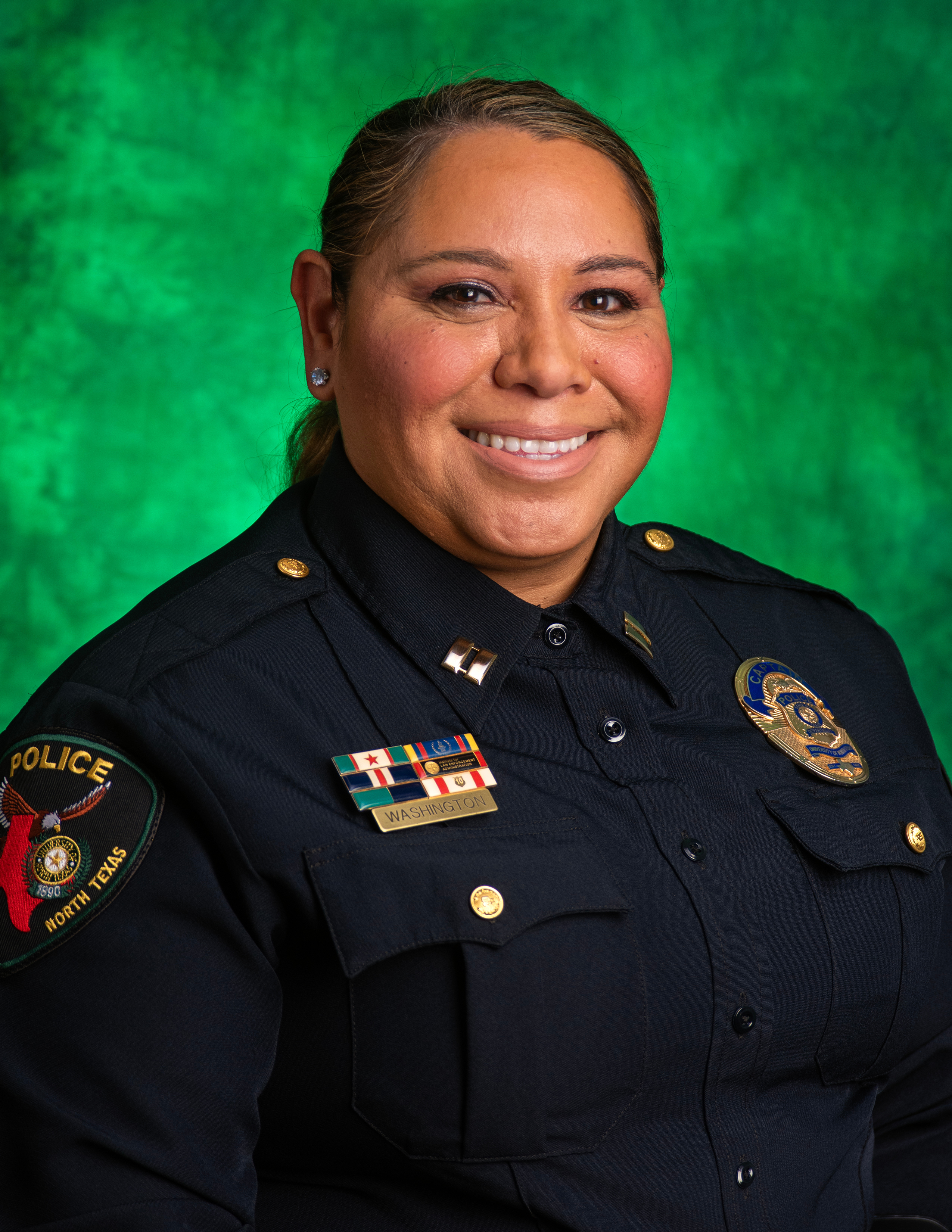 DENTON (UNT), Texas — Ramona Washington, a UNT alumna and law enforcement professional with more than 20 years experience, will serve as the next police chief for the University of North Texas Police Department, effective June 1, 2023.
"Ramona embodies the professionalism and community-centric focus that we desire in a police chief to lead this department, oversee the safety of our campus, and connect with our students, faculty, staff and guests," said Clayton Gibson, UNT's vice president for finance and administration. "She has spent most of her career with UNT Police because this community holds special meaning to her. This is where she experienced educational and professional success, and she wants to support the successes of others here, as well."
Washington currently serves as captain of UNT Police Department's Criminal Investigations Unit.
She joined the UNT Police Department in 2002 after working as a Denton County detention officer. She also spent a couple of years as an adjunct faculty member at North Central Texas College and UNT teaching criminal justice courses. Within the UNT Police Department, she has taught training sessions about implicit bias awareness, sexual assault investigations and more. She helped organize UNT Police Department's 30x30 Initiative to increase recruitment and retention of female police professionals.
Washington earned bachelor's and master's degrees in criminal justice from the University of North Texas.
"I have spent most of my career at UNT on purpose. I believe strongly in the mission to support the education of students and to provide a safe and secure environment for our entire community," Washington said. "I am excited about my new role, but it is even more meaningful because I get to do it here at UNT – a university that means so much to me and that has played such a significant role in my own life and success."
Washington takes office as UNT Police Chief Ed Reynolds retires in May, following 30 years of service in various roles at the UNT Police Department.
About the UNT Police Department
The UNT Police Department is one of six departments in the Division of Finance and Administration. The department includes patrol, investigative and support services units, and about 65 full-time staff, including police officers, dispatchers, public safety officers, and administrative personnel. The department provides services to the main Denton campus, Discovery Park, and the UNT at Frisco branch campus. The department is a nationally accredited agency by both the Commission on Accreditation for Law Enforcement Agencies and the International Association of Campus Law Enforcement Administrators.
UNT police patrol 24 hours a day, every day of the year to support the safety of the campus community. They also provide proactive safety information to students, faculty, and staff through free programming, such as meet-and-greet events, in-person and online safety classes, and social media outreach.
About UNT
Established in 1890, UNT is one of the nation's largest public research universities with more than 44,000 students. Ranked a Tier One research university by the Carnegie Classification, UNT is a catalyst for creativity, fueling progress, innovation and entrepreneurship for the North Texas region and the state. UNT's programs are internationally recognized, with research and scholarship spanning all disciplines. World-class faculty are making breakthroughs every day, and UNT students and alumni are changing the world around them.
UNT News Service
News_Service@unt.edu
(940) 565-2108