Monday, May 8, 2023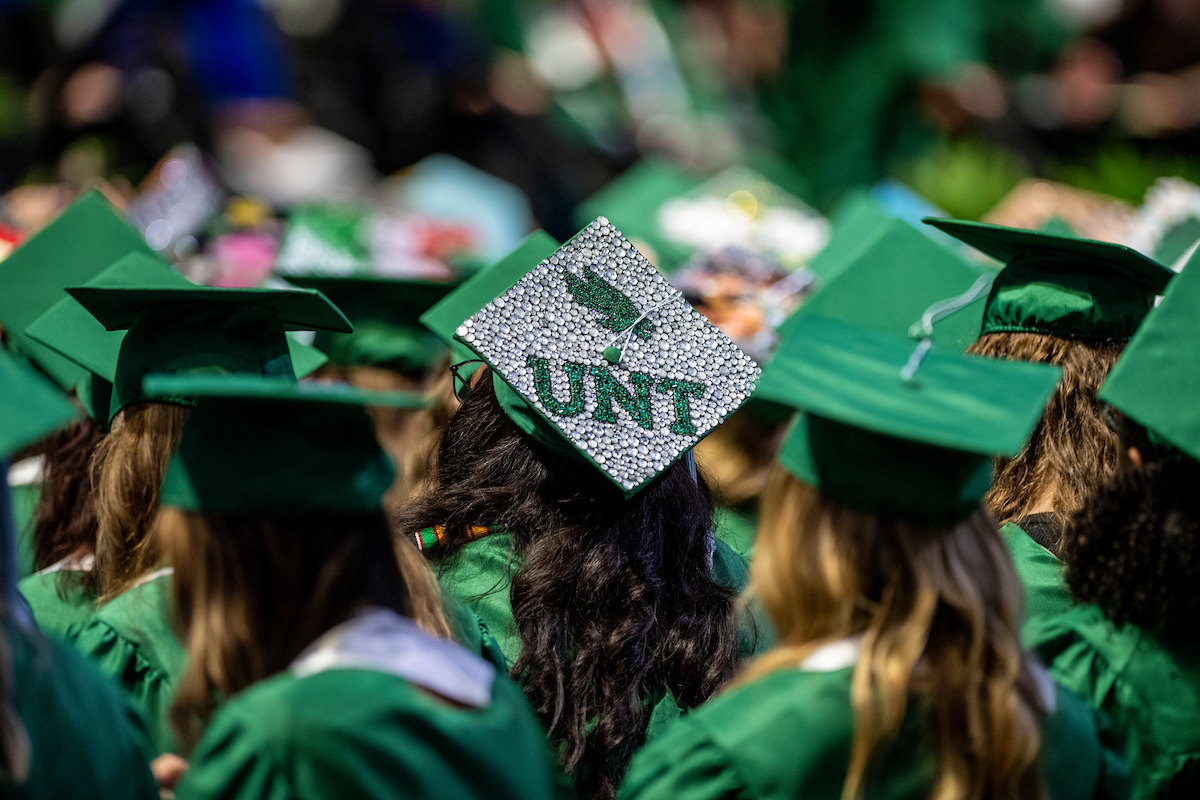 DENTON (UNT), Texas – The University of North Texas will celebrate graduates in 12 ceremonies this week.
During Spring 2023 Commencement ceremonies May 12-14 (Friday-Sunday), the university expects more than 6,700 students to celebrate the completion of bachelor's, master's or doctoral degrees during the spring and summer semesters.
Opal Lee ('63 M.Ed.) will receive an honorary doctorate degree as part of UNT's Spring 2023 Commencement events. She led the successful charge to make Juneteenth a national holiday — earning admiration and accolades along the way such as a Nobel Peace Prize nomination. Her ceremony is set for 12 noon May 14 (Sunday) in the UNT Coliseum during the doctoral and master's ceremonies. Read more about Opal Lee here.
Other stories of interest include the following:
Growing up, Azure Bradger remembers her parents separating and losing their house due to a series of poor financial decisions that they didn't plan for after splitting up. Now Bradger is becoming a financial planner to help others. She has completed her UNT degree while working full-time at Fidelity Investments. Bradger also has a 7-year-old daughter and helps take care of her disabled mother. Her ceremony is 7:30 p.m. May 12 (Friday) in the UNT Coliseum.
Mario Silva's parents immigrated to the U.S. from El Salvador. His father worked 60+ hours to eventually move their six-member family from a trailer park in Dallas to a home in Irving. Silva himself has worked 35 hours a week throughout his academic career to pay for all his expenses from his own pocket — with no student loans. His ceremony is at 4 p.m. May 13 (Saturday) in the UNT Coliseum.
In 1999, Wade Turner joined the U.S. Marine Corps at the age of 17. After several years of service, he was honorably discharged due to an injury. Turner initially attended UNT in 2005 but had a difficult time adjusting to civilian life. He left school and went into public service. Returning 16 years later, Turner is earning his Bachelor of Applied Arts and Sciences at 7:30 p.m. May 13 (Saturday) in the UNT Coliseum.
For media: Interview opportunities and parking can be set up with Devynn Case at Devynn.Case@unt.edu or 214-708-4558.
The ceremonies will be hosted on the UNT campus in the Coliseum, 600 Avenue D, and in the Murchison Performing Arts Center, 2100 N. I-35 East in Denton.
See the schedule of individual college ceremonies and live stream links online.
UNT News Service
News_Service@unt.edu
(940) 565-2108


From UNT News - General News