Monday, June 5, 2023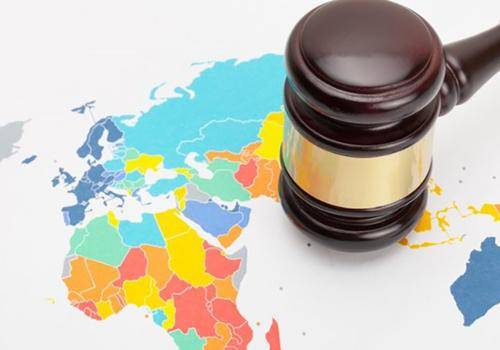 The UNT Dallas College of Law (UNTD COL) team is one of thirty-three groups selected to partake in the Oral Rounds of the Nuremberg International Moot Court Competition, and it's the only team invited from the United States to compete in that phase of the competition this year. As the UNTD COL students prepare for the Nuremburg Moot Court, a world renown competition taking place in Germany this July, excitement and expectations build.
During the simulated court proceedings, law students argue fictitious cases both from prosecutorial and defense positions before a mock International Criminal Court. Some of the best and brightest law students in the world get to dissect procedures in international criminal law, develop their skills and argue at an historic location at the Nuremberg Palace of Justice. Although outcomes are yet to be known, participants can count on top-notch advocacy from across the aisle and stiff competition at every turn.
Teams are matched head-to-head in a hypothetical pre-trial case before a mock international criminal court. Judges are invited from many countries all over the world, including the United States. A maximum of three teams per country are invited to the oral rounds. Again, UNTD COL is the only team selected from the U.S. this year which adds even more pressure as well as prestige.
When asked, 'what she believed were the most important things experienced while researching the case', Sonia Gonzales recounted learning new skills and trusting her team mates. "Collaborating on a written brief was a new experience for me. I had to learn to incorporate feedback from my teammates and give feedback to others on a subject I was new to, international criminal law," said Ms. Gonzales. "Learning how to identify binding and persuasive precedent was difficult. The international criminal court has an understandably different legal system and having to readjust my legal research was challenging. I am thankful for the learning experience!"
Jarrett Mendoza knows that style and substance both played a major hand in being awarded a coveted slot in the competition. "I love representing my school and making a name for us wherever I go. We have a very real opportunity to make a statement in the oral advocacy competition sphere," said Mendoza. "My favorite part of this experience has been researching and adapting a new writing style. International writing varies from traditional American legal writing and, in order to qualify for the oral rounds, we had to adapt our writing style to fit that mold. It was a blast."
Digging deeper proved worthwhile to Melissa Daniels, who understood the assignment although confronting the rigors of law school. "The biggest challenge for me was the learning curve. The task of learning international law and the structure of the courts while staying on top of coursework was quite a feat," said Ms. Daniels. "I am honored to have been accepted onto this team. I was drawn to apply because the task seemed both challenging and rewarding. I look forward to the opportunity to present oral arguments in the Palace of Justice in Nuremberg in the historic courtroom."
It's all in the details. Josh Blann believes in building it better. "My favorite part about participating on the Nuremberg Moot Court team has been the immersion in the relatively new area of international criminal law. It feels like you're helping to build the plane while in mid-flight," said Blann. "It's exciting and daunting at the same time. You can sense that the Court is trying to figure out how to try crimes of international importance, where its jurisdictional limits are, which potentially criminal acts deserve universal condemnation. It is as thrilling as it is difficult."
Anna Claire Ham recounts the legal and life benefits in exploring international law. "My favorite part about participating in this competition was being able to not only explore international law, but further, witness and explore the differences in legal writing and analysis when it comes to other countries," said Ms. Ham. "This experience has helped me in my legal journey by allowing me the opportunity to work with my colleagues in advocating and opposing a legal issue. Because we had to write both sides of brief, as opposed to just one, we were able to work as a team to build up and critique each other in a way that was beneficial."
Although the selection process was daunting, being selected as the only team from North America to advance to oral arguments was rewarding," Ms. Ham added. "As a newer school, this competition is an excellent opportunity for us to show others what we, as student and as UNTD College of Law, are capable of."
Congratulations to UNT Dallas College of Law and a huge thanks to Associate Dean Cindy Fountaine and Professor Shannon Conway for coaching and encouraging the team to strive for excellence. Good luck at the Nuremberg International Moot Court Competition.


From UNT Dallas Law News