Wednesday, September 21, 2022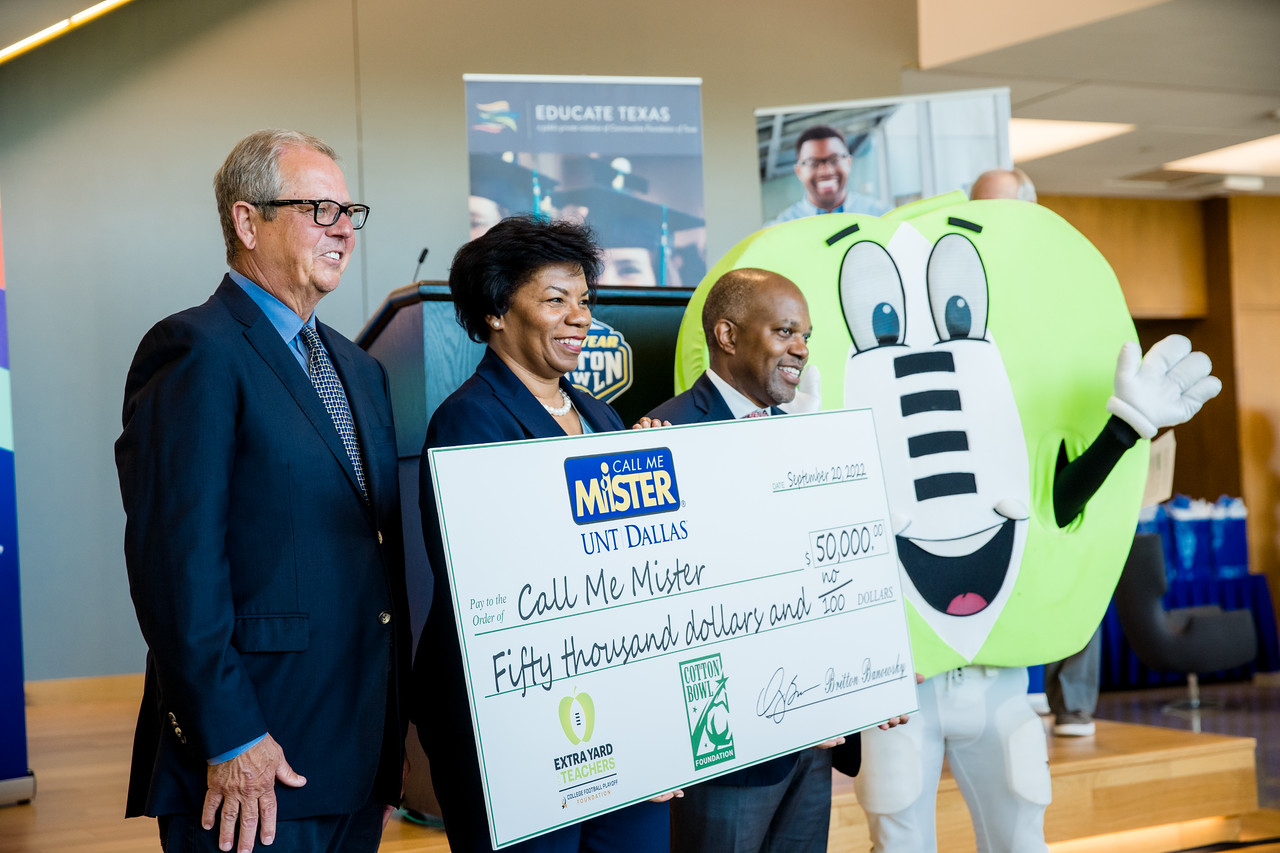 A beautiful day in North Texas was the perfect day to celebrate teachers as the Cotton Bowl Foundation and College Football Playoff (CFP) Foundation teamed up once again to award grants to three organizations as a part of the Big Day for Teachers during a presentation held today inside the Student Center on the University of North Texas at Dallas campus.
This year, the two foundations extended grants totaling $200,000 – $50,000 to the UNT Dallas Call Me Mister and Diverse Male Educators Destined to Teach, Hope, Respond, Inspire, Value and Empower (THRIVE) programs, $50,000 to Urban Teachers DFW and $100,000 to Educate Texas. Educate Texas received $50,000 from CFP Foundation on the heels of receiving $50,000 from the Cotton Bowl Foundation as a part of its grants program a year ago.
"Working with our educators and making our community stronger is very important to the Cotton Bowl Foundation, and we use the tool of football and our Goodyear Cotton Bowl Classic to do that," said Kelvin Walker, Chairman-Elect, Cotton Bowl Athletic Association. "I am the grandson and son of teachers and principals. For me to see organizations recognized for the hard work of education, acknowledge the challenges they have in the classroom and invest in them is very rewarding and gratifying."
The two foundations not only joined forces to show their collaborative investment in education-based organizations but also partnered to surprise a few teachers as well. Shaun Rivera and John Solano (teachers representing the Call Me Mister program), Gabriel Hernandez and Kamil Simms (teachers representing Urban Teachers DFW) and Jimmy Pate and Lecharia Scales (teachers representing Educate Texas) each received a Goodyear Cotton Bowl Classic cooler filled with gifts, a $150 donor choose gift card, courtesy of the CFP Foundation, and two tickets and parking to the 87th Goodyear Cotton Bowl Classic set for Jan. 2, 2023, at AT&T Stadium, courtesy of the Cotton Bowl Foundation.
CFP Foundation Executive Director Britton Banowsky emphasized the excitement of surprising teachers and noted how grants and surprise gifts are ways to support and celebrate organizations and teachers working hard to make a difference in the surrounding communities.
"We believe that without a great teacher in the classroom, we're not going to have good student achievement," said Banowsky. "And without great student achievement, we're not going to have great communities. It all connects together."
The common thread that connects the three organizations spotlighted on this Big Day is the common mission to combat the nationwide teacher shortage through innovative programs, initiatives and recognition opportunities to support teachers and students from diverse backgrounds.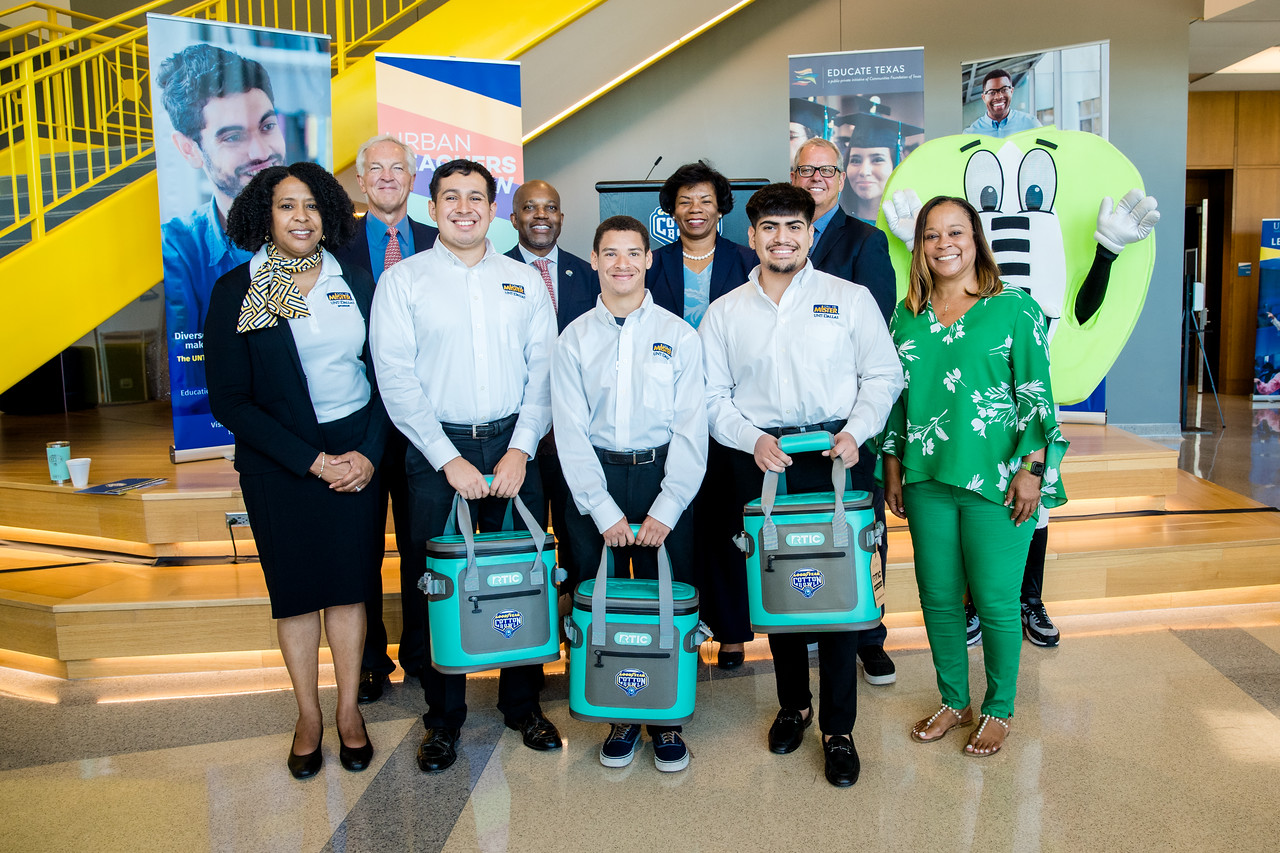 The Call Me Mister and THRIVE programs at UNT Dallas attract diverse males into the teaching profession. With the support of the Dallas Independent School District, UNT Dallas became a national licensed partner for the Call Me Mister program in the fall of 2020. The national Call Me Mister program was developed 22 years ago at Clemson University. This national, highly recognized program serves over 33 colleges and universities across 10 states.
"The University of North Texas at Dallas is proud to partner with the Cotton Bowl Foundation and College Football Playoff Foundation to combat the teacher shortage," said Dr. Betty Stewart, Provost and Executive Vice President of Academic Affairs, UNT Dallas. "We share common goals to provide better opportunities for underserved student populations and support positive educational outcomes."
Urban Teachers is a multi-city non-profit organization with the mission to improve the educational and life outcomes of children in urban schools by preparing culturally competent, effective career teachers who accelerate student achievement and disrupt systems of racial and socioeconomic inequity. In just five years, Urban Teachers DFW has grown to 322 residents and teachers working in classrooms in nearly 100 schools across the Dallas-Fort Worth area.
"We are incredibly thankful for the continued support of these organizations and to continue to support teachers," said Anthony Hernandez, Executive Director, Urban Teachers DFW. "Our teachers are game-changers who are committed to learning how to do this job and do it well. At Urban Teachers, we're really committed to making sure they have that continued support for multiple years so that they are ready to support the students in their classrooms."
Educate Texas, an initiative of the Communities Foundation of Texas, has put its grant money to work to create the Texas Campus Innovators Awards, established to recognize excellence in teaching among Educate Texas' network of campus partners for each school model. Each school recognized received dollars to invest in needed resources for their classrooms, teacher recruitment and retention, professional development and teacher incentives.
"We are excited to be here for this occasion and to honor and celebrate our teachers," said Chris Coxon, Managing Director of Programs, Educate Texas. "Educate Texas is committed to the success of African American, Latino and low-income students by investing in our mission to increase the degrees and credentials our students receive and ensuring every student has a great teacher."
The Big Day for Teachers, a part of Extra Yard for Teachers (EYFT) Week, is the largest single-day effort of community impact by the extended college football family. The EYFT platform has collectively invested more than $57 million to support educators. The CFP Foundation is the largest sports entity in America supporting educators. The organization has supported more than 450,000 teachers nationwide, creating a positive impact for more than 9.2 million students. More than 1,000 CFP Foundation partners are scheduled to participate this year.
The Cotton Bowl Foundation, the official foundation of the Goodyear Cotton Bowl Classic, serves North Texas by supporting programs that improve opportunities for underserved youth with the vision of making an impact on those who play the game, attend the game and support the game. Since 2016, the Cotton Bowl Foundation has awarded more than $2 million in grants and financial support benefiting non-profit organizations in the surrounding communities.
Follow the Cotton Bowl Foundation and Goodyear Cotton Bowl Classic on Twitter, Facebook, Instagram, YouTube, LinkedIn and TikTok.
From: UNT News