Wednesday, May 10, 2023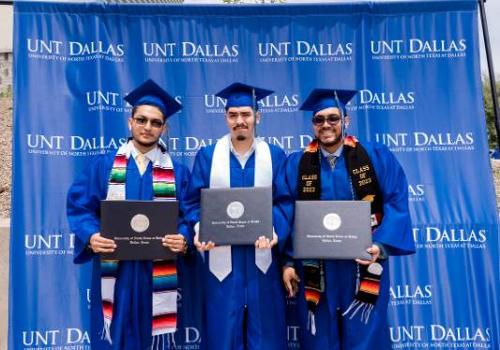 A record number of students are graduating from The University of North Texas at Dallas (UNT Dallas) in the Spring 2023 class. It is the largest in the university's history, with more than 600 students earning undergraduate and graduate degrees.
Students at the university's four schools received their diplomas and celebrated their achievements during morning and afternoon commencement ceremonies on Tuesday, May 9, at Texas Trust CU Theatre in Grand Prairie, TX.
Citing the record number of graduates, UNT Dallas President Bob Mong said, "This university is making a difference in this community." He later told the crowd, "I have a surprise for you," as he introduced keynote speaker, award-winning journalist Caitlin Dickerson.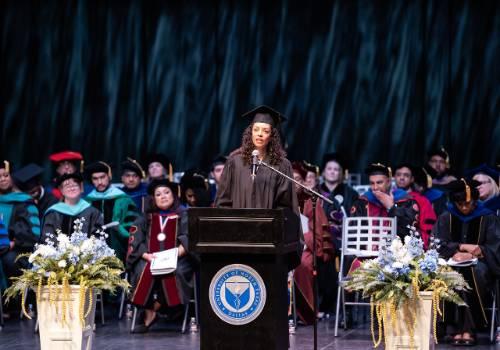 The surprise couldn't have been more fitting. Just the day before, Dickerson learned she had won a 2023 Pulitzer Prize for explanatory reporting, recognizing her work in The Atlantic. Dickerson reported in-depth about abuses to migrant families separated at the U.S.-Mexico border.
Looking back at her own educational and career experience, Dickerson's message to students touched on several themes. She spoke passionately about finding her path to success after being "labeled incorrectly" by teachers, the embracement of failure, the concept of "beginning again" and the importance of "celebrating accomplishments."
"Don't waste your time tap dancing," Dickerson said, referring to people who try to impress teachers, hiring managers or bosses who underestimate them. Dickerson encouraged the graduates to gravitate toward people who give them "twinkly eyes" of admiration and inspiration. "Give them extra weight, make them your mentors."
Referring to the honor she received just 24 hours earlier, Dickerson told students, "Go out and get your own version of a Pulitzer."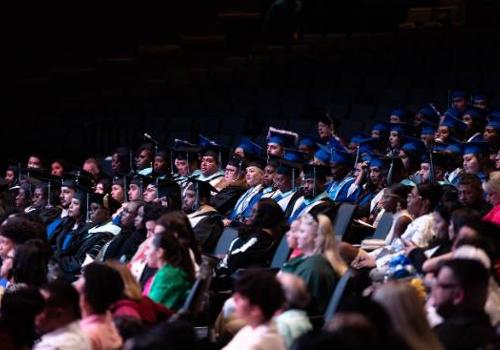 You can watch Dickerson's message here at 47:42 into the 11 a.m. video clip. The entire 11 a.m. (Schools of Business and Education) and 3 p.m. ceremonies (Schools of Behavioral Health and Human Services and Liberal Arts and Sciences) can be viewed, as well.
Undergraduate Stephany Sanchez and graduate student Daniel Weyandt spoke about the impact of their UNT Dallas journeys. "Let us remember the education we have received at UNT Dallas is not only for ourselves but for our society, so let us use our knowledge and experience to give back to our communities," said Sanchez.
"We've been transformed by the lessons we have learned," said Weyandt. "As we go our separate ways, we can transform society by continuing the partnerships we have built at this university."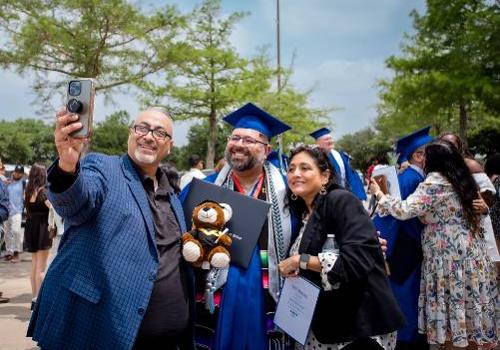 Among other graduates accepting their diplomas were Jessica Armstead and Eduardo Hernandez, both first-generation college students who overcame significant obstacles and challenges on their way to a UNT Dallas degree. Both credited the university's access and support systems for helping them learn, grow and pursue their dreams.
Armstead has been accepted into a master's program at Howard University in Washington, D.C. where she will focus her studies on foster care and child development. Hernandez has been offered a position at Accenture, where he earlier interned, and will start in July.
When asked about their greatest strengths, Armstead said, "Adaptability and positivity," while Hernandez answered, "Discipline." These qualities will help them and many other UNT graduates continue to achieve great things and their own, personal Pulitzers.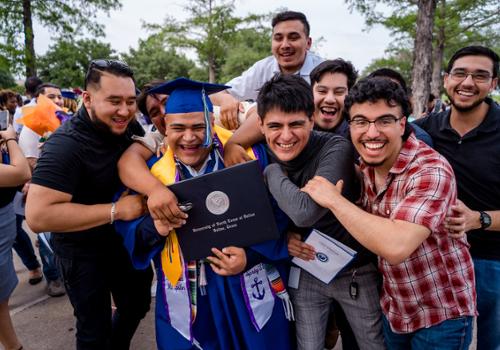 From UNT Dallas News