Friday, March 31, 2023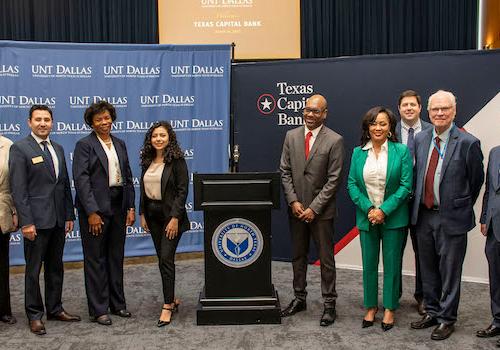 With a goal of diversifying the talent pipeline in the financial services industry, Texas Capital Bank and The University of North Texas at Dallas (UNT Dallas) have announced a new partnership to help provide college students a pathway to a commercial banking career.
UNT Dallas students will now have the opportunity to obtain the American Banker Association's (ABA) Commercial Lending Certificate at UNT Dallas. This program gives these students an opportunity to obtain crucial credit analysis and commercial banking skills, ultimately opening doors to careers in the financial services industry.
"Not only do I appreciate the generosity of Texas Capital Bank, but I salute the intent behind this partnership. It is all about providing actionable and hands-on experience that may well lead our students into banking and finance fields," said UNT Dallas President Bob Mong.
Becoming a commercial banker, where specially trained workers help growing businesses find financial solutions, also gives graduates an opportunity to make a difference in their own communities.
"We recognize the need for a more diverse talent pipeline in the financial services industry, and we are proud to help equip students with the skills and opportunities needed to pursue a successful career. We are excited to officially launch this program in Dallas and to continue empowering the communities we serve," said Effie Dennison, Head of Community Development and Corporate Responsibility for Texas Capital Bank.
As a part of this partnership, Texas Capital Bank professionals will also host career development sessions, including "meet-the-banker" events on campus, a guest-speaking series and field trips.
Graduates who obtain this certificate also will receive consideration for Texas Capital Bank's internship program.
The program is under the direction of Dr. Mujtaba Zia, UNT Dallas Assistant Professor of Finance and the Certification Program Coordinator.
"As educators, we strive to equip our students with career-ready skillsets and develop partnerships with the industry," said Dr. Zia. "We are fortunate and excited that Texas Capital Bank is now a leading industry partner in our Credit Analysis program and directly supports it with this generous gift. Thank you, Texas Capital Bank."
Enrollment for the Credit Analysis Certificate program is open to any current or incoming UNT Dallas student who has a minimum 3.0 GPA and meets additional qualifications.

From UNT Dallas News