Tuesday, May 30, 2023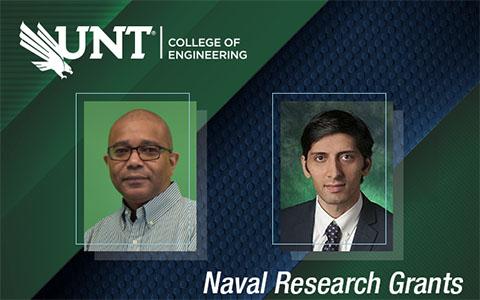 Two professors in the University of North Texas College of Engineering were each awarded nearly $450,000 in separate grants from the Office of Naval Research (ONR).
UNT had two winning awards selected by the U.S. Department of Navy HBCU/MI Program, which focuses on advancing research with Hispanic- and minority-serving organizations. The recipients are Nigel Shepherd, associate professor in materials science and engineering, and Hamid Sadat, assistant professor in mechanical engineering.
Shepherd's project will use in situ Raman and infrared spectroscopy to define the processing rules that determine the microstructure, macrostructure and high-frequency dielectric response of additively manufactured electronic ceramics. This work will allow engineers to devise the properties and performance needed for advanced radio frequency applications. At a broad level, the new basic manufacturing science knowledge gained through this research will be useful for affordable manufacturing beyond the specific materials and applications in the study.
Sadat's latest research project will assess statistics of extreme ship responses in random waves. Such responses are considered as rare yet influential events since they define ship survivability. Despite the significance of such responses, they have hardly ever been investigated as it was nearly impossible to search through all wave environments to determine conditions resulting in extreme ship responses. Sadat's team is developing innovative physics-informed stochastic mathematical models to rapidly identify all wave trails that potentially lead to extreme responses.
Read full article on UNT Research and Innovation website.
In the News, Materials Science & Engineering, Mechanical Engineering, Research Newsx

From UNT News - Research College of Engineering