Thursday, July 13, 2023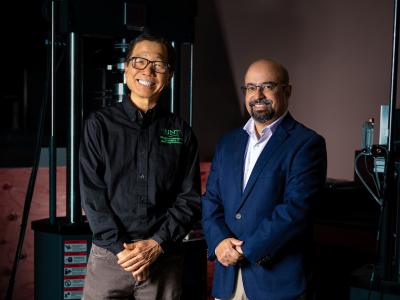 Denton, TEXAS (UNT) — New research being conducted at the University of North Texas could have a major impact on future military operations.
Dr. Herman Shen, chair for UNT's Department of Mechanical Engineering, and associate professor Dr. Hector Siller have been awarded an $800,000 grant from the U.S. Army Combat Capabilities Development Command Army Research Laboratory. Both Shen and Siller will lead teams of UNT undergraduate and postdoctoral researchers to help with the project.
The research will analyze the laser-based powder bed fusion additive manufacturing process, which involves the precise layer-by-layer building of metal parts, similar to 3D printing but with a laser and powder. The manufacturing will be done with equipment in UNT's Center for Agile and Adaptive Additive Manufacturing.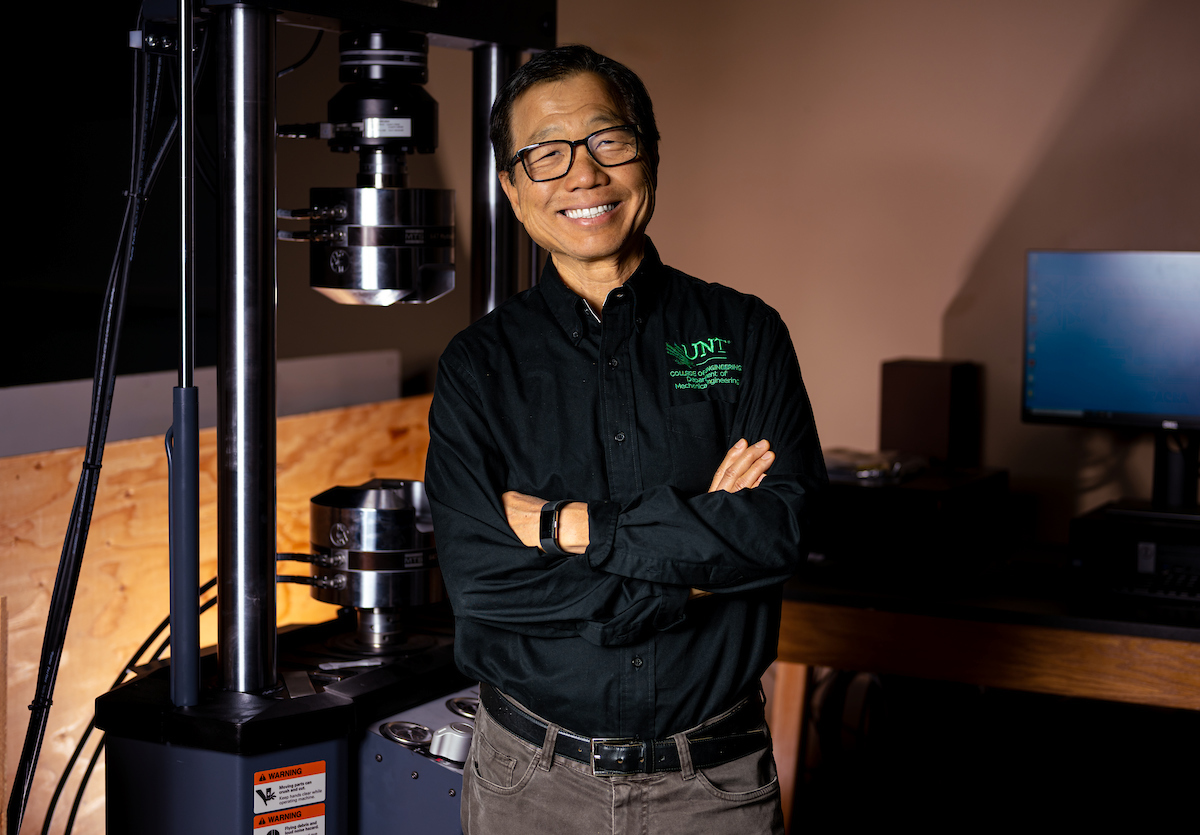 Their findings could allow military vessels in the future to produce their own replacement parts that are more reliable and durable.
"Submarine or aircraft carriers go out to sea for up to six months sometimes," Shen said, "If they need repairs, they can't just easily call someone to send the parts. They have to build their own."
To speed up manufacturing, the military is interested in powder bed fusion. However, parts made with laser-based powder bed fusion may come with inherit defects, Shen said. That's why his focus will be to pinpoint where the defects first form, by researching the process in reverse. Shen's team will look at the end product and test for any defects or deformations in the parts. They'll then use artificial intelligence to find where the defect could have formed during manufacturing.
Meanwhile, Siller and his researchers will examine the process as a whole. They will analyze fabrication plans, microstructure assessments and monitoring processes. The goal is to gain an overall picture of what happens to the materials during manufacturing and post-production testing.
Their comprehensive findings will identify where improvements can be made. Shen and Siller will then incorporate those changes and start the process again.
"We will have feedback from that performance, reform the methods and then have a closed loop of improvement," Siller said.
The manufacturing and testing will take place at UNT's Discovery Park. Shen says a researcher at Wright-Patterson Air Force Base, one of his former students, will also visit to evaluate their unique testing process.
The grant will span four years, with Shen and Siller submitting progress reports annually. The research is expected to help the manufacturing of critical machinery parts for all branches of the military.
"Aerospace components will most likely be made using this technology in the future," said Siller. "It's able to fabricate complex shapes such as turbine blades or engine parts. The nature of this research is to make sure those parts are reliable."
Funded by the Army Research Office, the grant is the result of a merit competition administered under policy and guidance of the Office of the Under Secretary of Defense for Research and Engineering. Its goal is to increase the capabilities of Minority-Serving Institutions, such as UNT, and Historically Black Colleges and Universities in conducting defense research. The Army Research Office is a directorate of the U.S. Army Combat Capabilities Development Command Research Laboratory.
UNT News Service Phone Number: (940) 565-2108

Media Contacts:
Amanda Lyons
Amanda.Lyons@unt.edu
940-565-2943