Thursday, July 27, 2023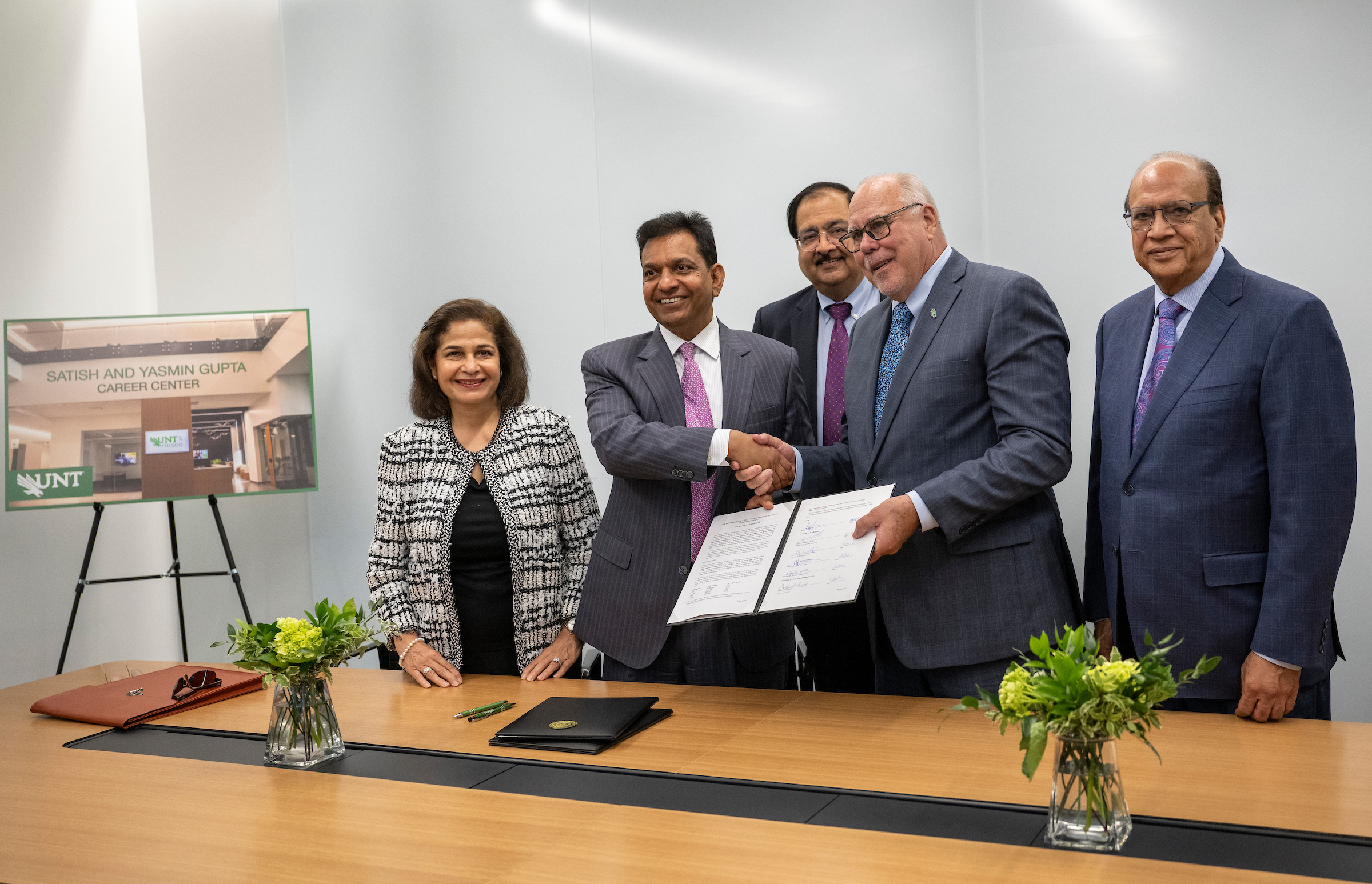 DENTON (UNT), Texas – The University of North Texas is proud to announce a $3 million gift from Satish and Yasmin Gupta to support student scholarships and UNT at Frisco. As the first endowed gift entrusted to UNT's branch campus in Collin County, the Satish and Yasmin Gupta Career Center will be established at Frisco Landing.
"Yasmin and I are honored to contribute to UNT at Frisco's vision of fostering student success," Satish Gupta said. "We believe that education should go beyond classrooms, and we're proud that the Satish and Yasmin Gupta Career Center will represent our commitment to UNT students and help equip them with the necessary tools and experiences to excel in their chosen fields.
"It is our hope that our giving to create this career center will help thousands and thousands of students in their journey, in their career or in helping enhance their families — because we know that when you believe in yourself, your dreams will come true."
Satish Gupta is the founder, president and CEO of SB International, Inc., a privately-held steel company headquartered in Dallas. After earning an economics degree from India's Loyola College, Gupta came to the United States and completed an M.B.A. in international trade from the University of Dallas. An accomplished business leader with a philanthropic spirit, he formed the Gupta Agarwal Charitable Foundation in 2005, which contributes to organizations in the Dallas area to advance education, public health, medical research and cultural initiatives.
UNT President Neal Smatresk applauded the Gupta family's generosity and their dedication to advancing education and fostering a dynamic environment where innovation and success intersect.
"This transformative gift from Satish and Yasmin Gupta will serve as a catalyst in our ongoing mission to extend UNT at Frisco's reach and impact, enabling us to serve a greater number of students in North Texas and foster stronger connections between higher education and industry to best support industry needs and our students' career aspirations," UNT President Neal Smatresk said. "With this visionary support, we can provide even more scholarships, cutting-edge programs and immersive learning opportunities for our students."
Brandon Buzbee, vice president for university advancement, highlighted the significant impact created by this gift and emphasized the community's unwavering support for the new campus.
"With this gift, the Gupta's establish the foundation for an enduring impact on the lives of our students, while demonstrating the community's support of our pioneering campus," Buzbee said. "In many ways, this campus started with the generosity of the community through the gift of the land on which the campus is built — and this gift from the Gupta family strengthens that bond. We are grateful for the support we have received, and we anticipate collaborating with the community for many years to come. Together, we look forward to making a lasting impression through the continued growth and expansion of UNT at Frisco."
Audhesh Paswan, Vice Provost for UNT at Frisco, emphasized the ways in which this gift will help propel the university's mission forward, fostering innovation and empowering students.
"A symbol of generosity to our students, the Satish and Yasmin Gupta Career Center will become a beacon of opportunity, helping bridge the gap between academia and industry," Paswan said. "We offer many ways for UNT at Frisco students to gain a competitive edge and thrive in their chosen careers. This gift reinforces our commitment to producing well-rounded graduates who are ready to make a positive impact in their fields."
A public dedication ceremony will take place Friday, Sept. 15, 2023 starting at 4:30 p.m.
***
About UNT at Frisco
Project-based, multidisciplinary learning is the cornerstone of the UNT at Frisco experience, with classes and cohorts designed around collaboration and practical application. Innovative programs offered at the UNT at Frisco branch campus help students transform their lives by meeting them where they are — whether they're starting college for the first time, transferring from another institution or returning to finish a degree and advance their career. By engaging students in real-world problem-solving and giving them authentic opportunities to cultivate the skills most sought after by today's employers, UNT at Frisco is reimagining the college experience and shaping the visionary leaders of tomorrow.
UNT News Service Phone Number: (940) 565-2108

Media Contacts:
Devynn D. Case
Devynn.Case@unt.edu
940-565-3509