Wednesday, December 21, 2022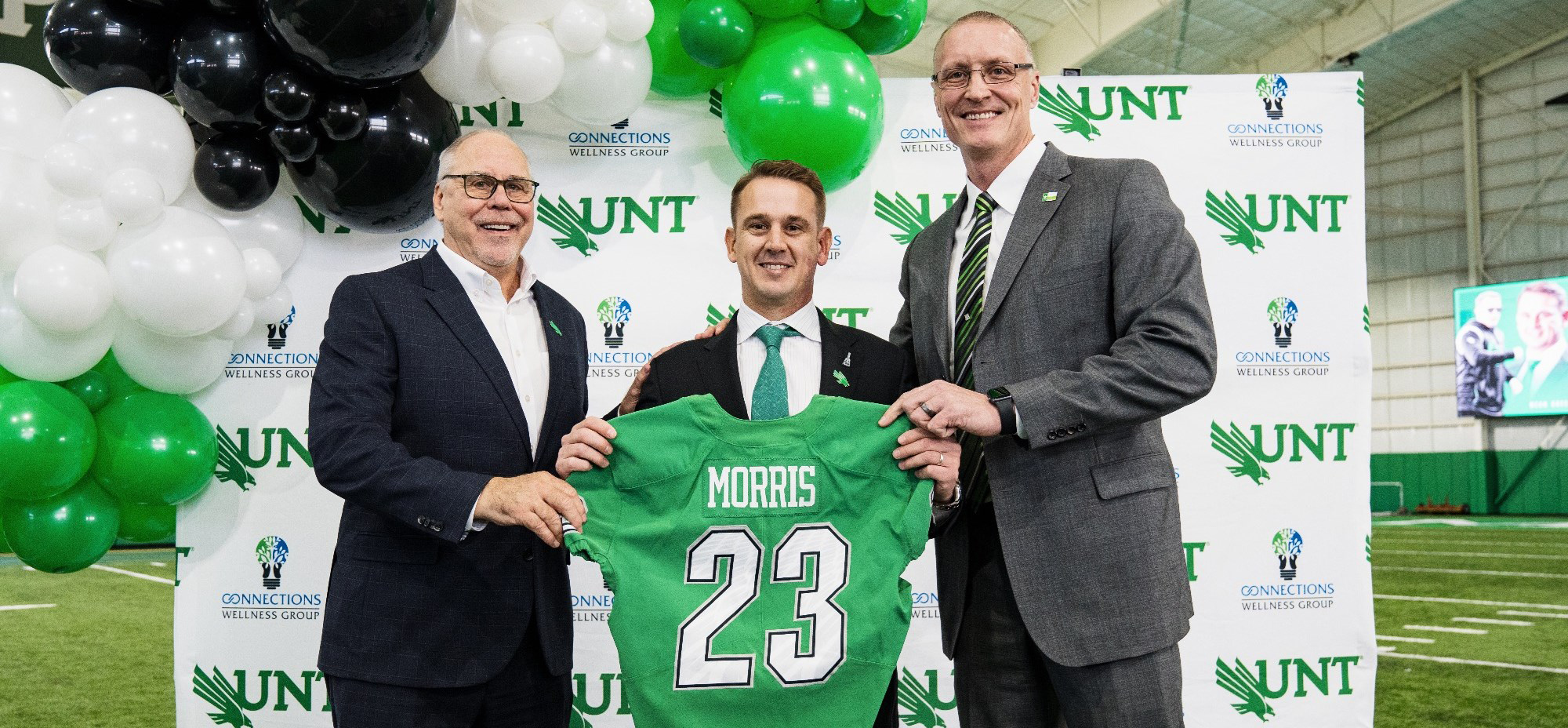 DENTON – Mean Green fans filed into the Lovelace and McNatt Families Practice Facility on Wednesday afternoon as a new era of UNT athletics officially got underway with the introductory press conference for new Vice President and Director of Athletics Jared Mosley and new head football coach Eric Morris.
The regime change comes just weeks after former VP and Director of Athletics Wren Baker departed for the same job at West Virginia and the university parted ways with former head football coach Seth Littrell, and as the athletic program prepares to move into the American in July after nearly a decade in Conference USA.
Morris was meant to wear green
In his opening remarks, Morris, who joins UNT after a year as the offensive coordinator at Washington State following stints as the head coach at FCS power Incarnate Word, a first stint at Washington State, Texas Tech and Houston, mentioned how all of his previous stops incorporated some form of red and black in the color scheme.
He'd never worn green on the sidelines, but he had a story to tell.
In 2008, when Morris was a senior standout at Texas Tech under Mike Leach, the late head coach was showing a clip of Morris running low on a reverse and evading a bigger defender from Nebraska in a Tech victory the same season the Red Raiders ended up making it as high as No. 2 in the nation.
Leach, known for his quirkiness and colorful comments, silenced Morris' teammates who were making fun of his diminutive stature and said the only name for a person of his size who could do something so magical was an elf. The next week, his locker was full of green gear – tights, jersey and even an elf hat with elf ears. He thought it was a joke, but Leach didn't. And he wore it during practice for the next five weeks as Tech ascended the national rankings.
The nickname stuck, but Morris was quick to squash any of his new players referring to him in that way.
"Mike's the only person that could call me Elf," he said to laughter from the assembled crowd. "It's Coach Morris from now on."
Morris got emotional talking about Leach, who unexpectedly passed away last week at age 61, as the current head coach at Mississippi State.
Morris thanked Mosley for delaying the press conference a day so he could attend Leach's public memorial in Starkville, Mississippi, on Tuesday.
"He's a man I owe everything to," Morris said of Leach. "He gave me every opportunity as a player and as a coach. I was actually sitting at Mike's old desk at Washington State when Jared called me to offer the job. That, to me, was like Mike looking down on me and my opportunity to continue his legacy. I'm forever grateful to Coach Leach. Seeing my three position coaches from college, Dana Holgorsen, Sonny Dykes and Lincoln Riley, and seeing those guys be so fired up for me yesterday was something special."

Morris assembling staff, working on keeping commitments
It's been a whirlwind week for Morris since being named the 20th head football coach in program history.
He was on hand for the Frisco Bowl, in which former defensive coordinator Phil Bennett served as the interim coach, earning a "thank you" from Morris, Mosley and university president Neal Smatresk, and has since been trying to assemble a coaching staff while working the recruiting trail in advance of National Signing Day, which also fell on Wednesday. Morris acknowledged longtime running backs coach and former Mean Green great Patrick Cobbs, saying he has been kept on staff as the running backs coach and also mentioned a few other hires he's made that will soon be announced.
"You want a diverse group that has different strengths," Morris said of the type of staff he's looking to put together. "You don't want a bunch of 'yes' people. You want people that will help grow the program in every aspect. I want a lot of strong Texas ties. If I'm being honest it's a little easier offensively because those are the guys I know and I've been working there for the last 11-12 years. It's also important to get a strength coach in here you really trust and next for me is a defensive coordinator and special teams coordinator. We've hit the ground running. I already hired one former Texas high school head coach and I wouldn't be surprised if there are a few more guys brought on that were Texas high school head coaches."
Mosley said he interviewed 16 people over a two-day period, and Morris was the one he kept coming back. When asked why, Mosley said there were two key points – one about pouring into the players you have and another about a strict rule Morris said he had for his coaches.
"When we talked about his philosophy of building a program, he said the most important part of recruiting is recruiting your players every day," Mosley said. "That's the most valuable asset we have is retaining the people in the room. That struck me. One of the last things he said was, 'I have one rule for coaches I bring on board, I'm not going to let them complain about what we don't have.' I loved that about him. For people who don't know, if you look at the Incarnate Word program, and no knock on that university, most people know that's a difficult job so what they were able to build without resources and make the most of what they did have, I have a ton of respect for that."
President's search leads back to Mosley
UNT President Neal Smatresk said he interviewed eight candidates to replace Baker, including a few very high profile ones, but he kept coming back to Mosley as someone who was already familiar with UNT as the chief operating officer and deputy athletic director under Baker.
"One of them made it clear through his experience and strong track record and familiarity with the program," Smatresk said. "He was incredible, and his answers were all crisp and sharp. He really knows where to go and where to take us and didn't miss a beat from our previous AD Wren Baker, who we miss and wish good luck to, but he left us in good hands. I realized the best candidate was right here and someone we all knew, respected and appreciated."
Mosley said he is ready for the challenge of moving to the American but said it starts with support of the program to help expand the athletic center and increase donor support.
"Our transition into the American Athletic Conference is exciting and the platform we have to build our brand nationally and to create a championship culture will be our biggest focus," Mosley said. "Much of our success focuses on two key areas: The expansion of the athletic center and our ability to complete the $20-25 million fundraising need for this project is critical. It's the centerpiece of any growth that we have ahead of us.
"The critical support needs for our student athletes in sports medicine, mental health, nutrition, academic and career support, as well as their physical and mental development demand that we raise the bar and provide the absolute best to these young men and women," Mosley added. "… We also need more Mean Green faithful to participate in the Mean Green Scholarship Fund to purchase season tickets, whether you come to all the games or not, and to contribute to ongoing projects that we deem important to our success."
WHAT THEY'RE SAYING…
President Neal Smatresk:
"It was clearly in the best interest of this institution to hire not only the most qualified person but someone I knew and had confidence in and who could keep the momentum we had with Wren Baker and push us forward. Someone that makes our fans stand up, sing our alma mater, show up and have a great time."
VP and Director of Athletics Jared Mosley:
"We wanted someone with previous head coaching experience, we feel that is critical. Someone who understands the recruiting landscape in Texas and has relationships with Texas high schools. Someone who is not only a recruiter themselves, but also a developer of talent. Someone who had experience at a variety of different levels and institutions where they've had to be creative to go achieve and accomplish things at a high level. And we needed someone that is a community focused leader who understands how to engage a campus community to build an environment that other people want to be a part of."
Head football coach Eric Morris:
"You know, I keep waking up every day thinking that I'm dreaming. A boy from a small West Texas town, the son of a high school basketball coach, and now I'm the head coach of the Mean Green, the University of North Texas, and so this is a dream come true for me and my family."
From MeanGreenSports.com