Friday, March 10, 2023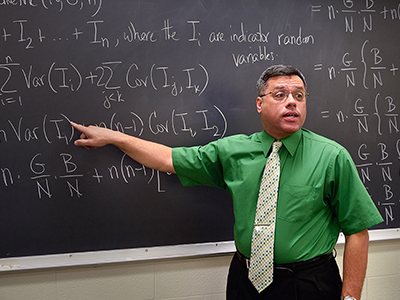 DENTON (UNT), Texas — The University of North Texas named John Quintanilla its new dean for its College of Science.
Quintanilla, who has been serving as interim dean of the college since last June, will step into the role permanently, effective April 1.
Since he first joined UNT in 1996 as a faculty member in the Department of Mathematics, Quintanilla has made tremendous contributions to the university community in various roles. Over the years, he has helped develop new academic programs for students, including the introduction of an undergraduate academic certificate in actuarial science and serving as a founding co-director of Teach North Texas – UNT's award-winning program for preparing and supporting secondary teachers of mathematics and science.
Most recently, Quintanilla served as associate dean for undergraduate studies before taking on the interim dean position after Pamela Padilla moved into her current role as UNT's vice president for research and innovation.
"Dr. Quintanilla has been deeply engaged in the College of Science and the UNT community for many years, and I am delighted to welcome him into this role," Provost Michael McPherson said. "He is an experienced leader, professor and scholar whose innovative ideas and commitment to collaboration will take the College of Science — a college that is critical to UNT's flourishing research enterprise — to inspiring new heights."
As one of the largest colleges at UNT, the College of Science prepares nearly 4,000 students for careers in natural, physical, mathematical and medical sciences through classroom instruction and involvement in cutting-edge research and scholarly activities. Its faculty have earned top awards in their disciplines and are consistently named some of the world's most cited researchers.
"I'm honored to start this new chapter as dean of the College of Science," Quintanilla said. "We have a terrific faculty and staff who truly care about student success. I look forward to supporting them in ensuring our students excel as well as guiding the college's contributions to UNT's growth as a Tier One public research university."
Quintanilla, whose research interests include applying stochastic geometry to materials science and mathematics education, has earned multiple awards for his teaching and service. In 2005, he received the Distinguished College or University Teaching of Mathematics Award from the Texas Section of the Mathematical Association of America. He also is a University Distinguished Teaching Professor.
He was a first-generation college student, receiving his bachelor's and master's degrees in mathematics from Stanford University and another master's degree and Ph.D. in civil engineering and operations research from Princeton University.
UNT News Service
News_Service@unt.edu
(940) 565-2108