Thursday, May 6, 2021
UNT System Vice Chancellor for Finance and Chief Financial Officer Dan Tenney was named D-CEO Magazine's CFO of the Year for Higher Education on May 5.
Tenney's leadership in helping the UNT System mitigate financial challenges during the COVID-19 pandemic and long-range planning have been instrumental in helping UNT World maintain financial strength over the past year. During the pandemic, Tenney launched an "Organizational Effectiveness Team" with diverse representatives from all UNT System institutions to help identify and implement positive operational efficiencies across UNT World.
"Dan is a great leader — he and his team have been tremendous in helping us mitigate the many financial challenges created by the COVID-19 pandemic," Chancellor Lesa Roe said.
Tenney, who was previously the Associate Administrator for Mission Support at NASA, Tenney has implemented numerous improvements over the last year, including the first-ever multi-year budget plans for institutions; quarterly statements with end-of-year projections to enhance financial analysis; multi-year modeling and sensitivity analysis to better identify opportunities and challenges; and strategic sourcing for vendors and partners, saving time and money.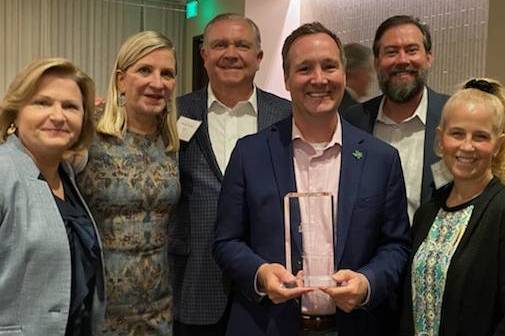 As a leader in higher education, we have tremendous opportunities to transform lives and create economic opportunity through education," Tenney said. "Our institutions are well positioned to support the continued growth and needs of industry partners across the DFW region by providing highly skilled and educated leaders for the future."
Pictured with Dan and wife Crystal are Chancellor Roe, Board Chair Laura Wright with husband Randy Wright, and Chief Communications Officer Paul Corliss.