Monday, August 14, 2023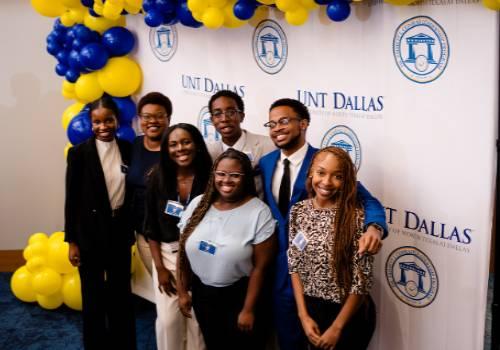 Back in 1993, the Dallas Cowboys won Super Bowl XXVII. Jurassic Park was the number-one movie of the year. And the Dr. Emmett J. Conrad Leadership Program was founded.
A lot has happened since then. While the Cowboys have had their ups and downs, the Conrad program has gone only one way, steadily up. It has reached new heights of success, putting nearly 3,000 students on a path to promising careers and providing dozens of Dallas-area employers with talented summer interns, who are paid for their hard work.
The vision of Conrad program founder, State Sen. Royce West (Texas District 23), was to ensure minority and first-generation college students receive paid internships with hands-on experience and professional mentors guiding their way.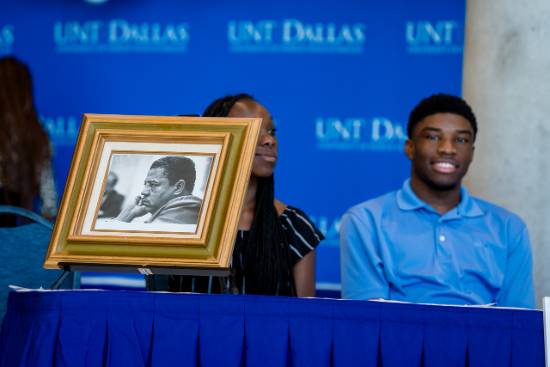 This year, as UNT Dallas celebrates the 30th anniversary of the Dr. Emmett J. Conrad Leadership Program, there is so much gratitude to share. Support from local businesses, organizations and institutions has been crucial to the program's success. They span a broad spectrum of industries, from banking to bottling, healthcare to hospitality, accounting to aviation, and many more.
The Conrad program has thrived, with continual backing from corporate, civic, governmental, educational and nonprofit sponsors. As a result, countless Conrad Scholars have gone on to achieve great things, with some launching their own businesses or leading others. They often give back by hiring Conrad interns or donating to help fund the cause.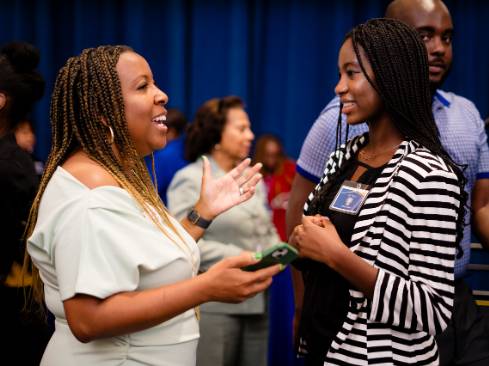 Given that impressive track record over three decades, this year's end-of-summer event on the UNT Dallas main campus took on special significance. Current Conrad Scholars mixed and mingled with Conrad alumni, who shared advice about their internships, careers and lives.
Mrs. Ramona Suggs Winrow, representing the family of Dr. Emmett J. Conrad, told this year's cohort they are no longer just first-generation college students, they are "generation now." State Sen. West called them the best and brightest and predicted they will witness humans landing on Mars. West told them, "You are the masters of your fate and the captains of your soul."
Dr. Monica Williams, Vice President for University Advancement and President of the UNT Dallas Foundation, said the students are going to be the most amazing leaders, and thanked the employers, sponsors and partners who have long supported the Conrad program.
The lively, empowering keynote discussion included the Hon. Dominique Torres Williams, a Dallas County criminal court judge; Kevin Kelley, a Dallas attorney and entrepreneur; and TianEn Stephenson, a senior manager at Accenture in Irving, TX.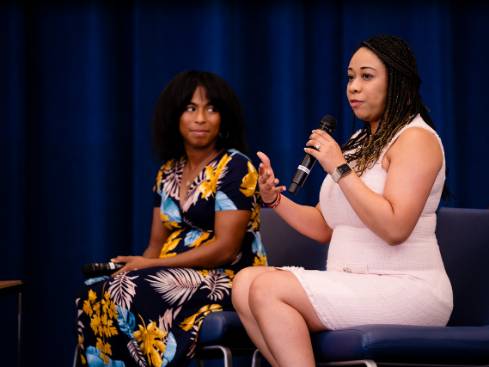 Judge Torres Williams recalled how her Conrad internship with the Texas Department of Criminal Justice, which required visiting parolees and their families, helped her find purpose in her life. She said she loved speaking with them and making them feel safe. Later, as an attorney, Torres Williams said she relished seeing a sense of relief in her client's eyes after a favorable legal proceeding. Now, sitting on the bench, she explained, "I am a judge, but I am not judging them," referring to defendants in her courtroom.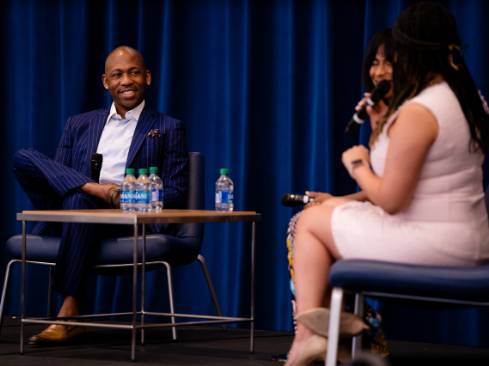 Kelley credited the Conrad program with planting the seed in his head to become an attorney. He encouraged students to be selfless. "Use your platform so others can win, too," Kelley said. He told the audience that interns can enhance and expedite the success of a business. "Sometimes we underestimate youth," he told Conrad sponsors and prospective partners. "Don't be surprised if they can run circles around some of your other employees."
Stephenson said her Conrad internships at AT&T and Atmos Energy opened her eyes and helped her see herself in corporate America. She shared the memorable experience having lunch with the AT&T CEO and Sen. West, sitting at the table with powerhouses, as she put it. "I make sure my presence is known, not just being there. Show your energy and your intentions," she advised students as they embark on their careers.
The most emotional moment of the event came when Dr. Sahleemah Fahmi, a former Conrad Scholar, thanked her Conrad mentor, Dr. Nancy Fain. Fahmi was the first Conrad student to become a doctor. She interned under Dr. Fain at UT Southwestern Medical Center in Dallas. She said the knowledge she gained from Dr. Fain was powerful and impactful. "I am extremely grateful," a tearful Dr. Fahmi told Dr. Fain. "You are a shining example and I love you." Dr. Fahmi now serves the community with her own endocrinology practice in Desoto, TX. "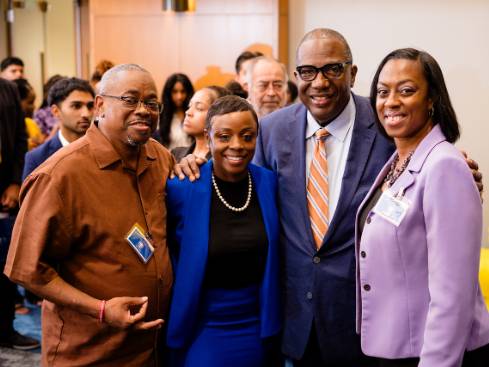 Sen. West was honored with a surprise video tribute, produced by the UNT Dallas Department of Marketing and Communications. The video included numerous accolades from current and former students who have benefitted from the Dr. Emmett J. Conrad Leadership Program since it was founded by Sen. West 30 years ago this summer. "I can see 1993 like it was yesterday," Sen. West had told the audience earlier. The video reinforced that memory and reminded everyone not only of the many young people served by the program so far, but the many who will achieve their dreams in the future, as a result.



From UNT Dallas News Community & Students