Wednesday, July 5, 2023
If at first you don't succeed, try, try again. That proverb dating back to the 1800s was the perfect mantra for a first-of-its-kind 3D printing course and its inaugural cohort.
Seven fortunate UNT Dallas STEM students spent their summer imagining, designing, and building their own, unique creations. In the end, their ideas came to life through the knowledge and skills they gained over the past eight weeks. And, thanks to brand-new, high-tech 3D printers, part of the College of Arts and Sciences STEM Laboratory.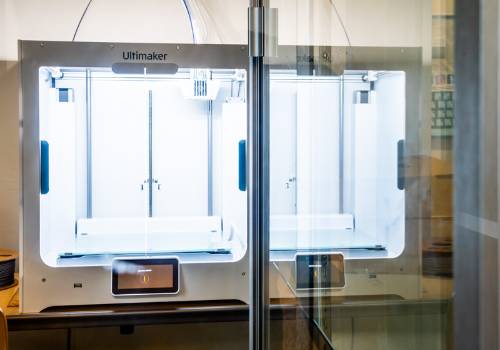 "This has the potential to open up a world of opportunities for students," said Dr. Noureen Khan, the UNT Dallas mathematics professor who championed and taught the course. "This includes internships and career opportunities in 3D printing and related industries. It can also help students develop critical thinking and problem-solving skills."
By combining inspiration and imagination, the students used special software to create a variety of 3D objects, some familiar, some not, including a gaming console, a flower vase, a sphere similar to a baseball with indentations for fingers, a product called a Klein Bottle whose neck crosses through itself and cannot hold any liquid, a round piece with a surface of patterns mimicking constellations, a UNT Dallas Trailblazer (jaguar head) pencil holder, and even a working combination lock. All were made of plastic, fabricated by those 3D printers, recently installed by the students themselves.
Dr. Khan's 3D Printing class with their projects.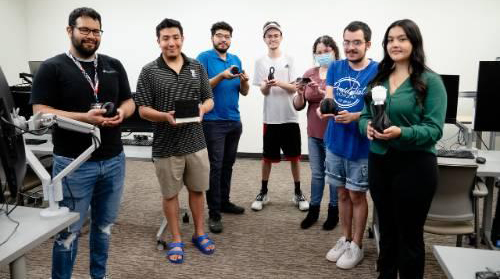 "UNT Dallas is uniquely positioned to offer our students an opportunity to learn innovative 3D technology and get hands-on experience applying the mathematics they have learned in the classroom," said Dr. Khan.
Transforming their creations from computer screens to real-life required patience and persistence. Explaining his project, the constellation-inspired ball, Jose Toledo told classmates, the experience boiled down to "the hard way versus the easy way. You learn more the hard way." Toledo called the repeated trial and error "fun" and said if students truly believe in their idea, they have to "fight for it."
Participants learned much more than artistic skills. After all, this is a mathematics course. Coding, scientific writing and presentation skills were the foundation of the lesson plan. On the final day of the course, they presented their projects to each other. Someday, they might be pitching to bosses, business owners or investors.
Alex Morales | Nintendo Game Cube case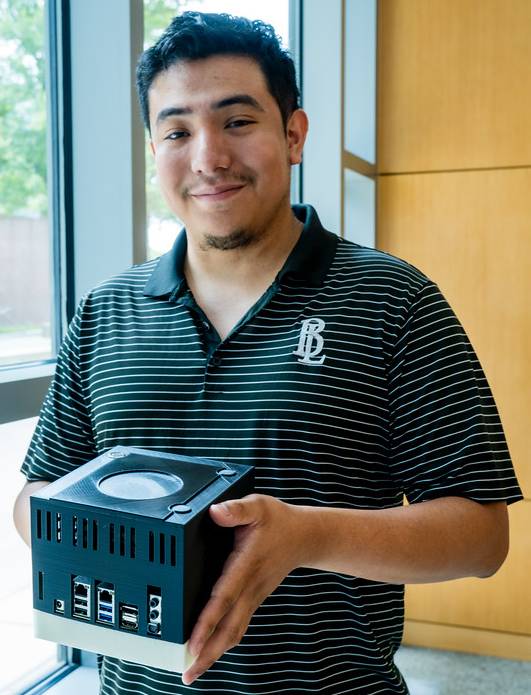 Alex Morales, who built a fully functional game console, aspires to be a video game designer. He walked classmates through his lengthy, highly detailed process from beginning to end, including the initial concept, dimensions, hardware, software, ports, memory (RAM), and solid-state drive (SSD). The finished product resembled a Nintendo GameCube.
Samuel Quiroz | 3D Ball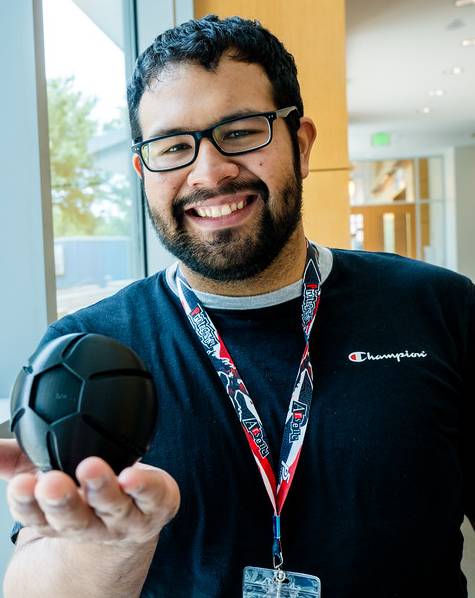 For Samuel Quiroz, creating his 3D ball meant understanding the compositional technique known as the golden ratio. One major design consideration was form versus function, or as Quiroz put it, "aesthetics versus practicality."
Isabel Nunez | Vase and Rose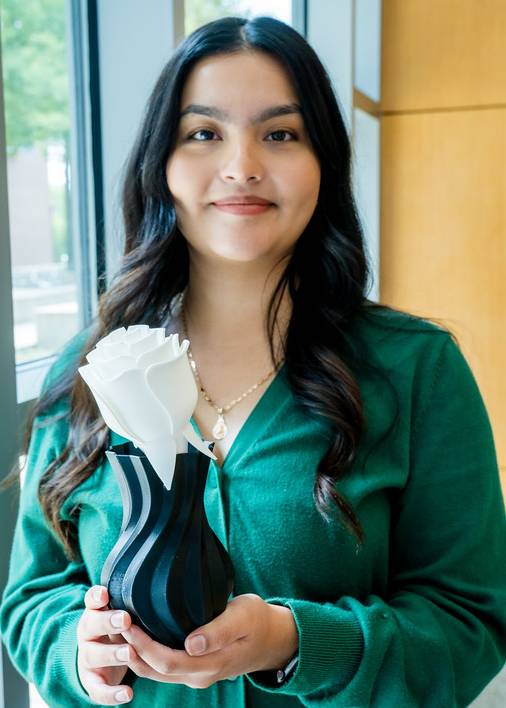 Images found through Google searches provided inspiration for Isabel Nunez's vase. She even made a white 3D flower to compliment and contrast her black creation. Isabel told fellow students about learning to extrude the design from 2D to 3D and having to twist and fillet surfaces to achieve optimal form. "They're useful skills to have," she said.

Leslie Corro | UNTD branded pencil holder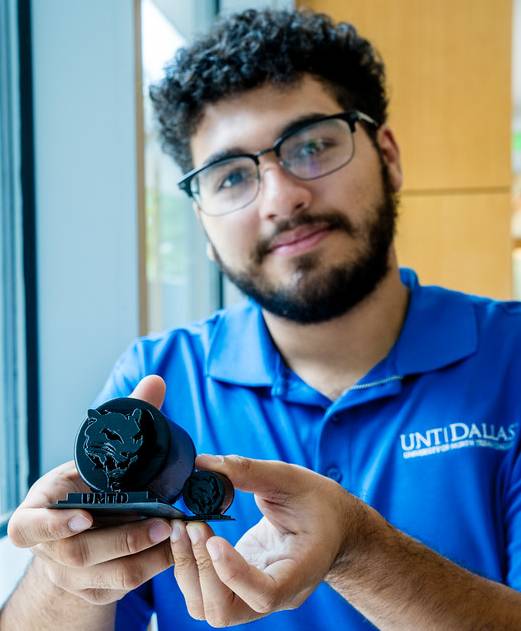 Leslie Corro's replication of the UNT Dallas mascot was time-consuming, in part because the 3D printer needed to make so many intricate cuts to produce the proper shape. The likeness, made into a pen or pencil holder, was very realistic and included the letters UNTD, so nobody could mistake who the Trailblazer logo represents.
While taking this course, Corro also served as a peer mentor for students participating in UNT Dallas's Growth Mindset Boot Camp, a weeklong series of lectures, exercises and conversations challenging them to grow by stretching boundaries and expanding expectations.

Adam Yeisley | Klein Bottle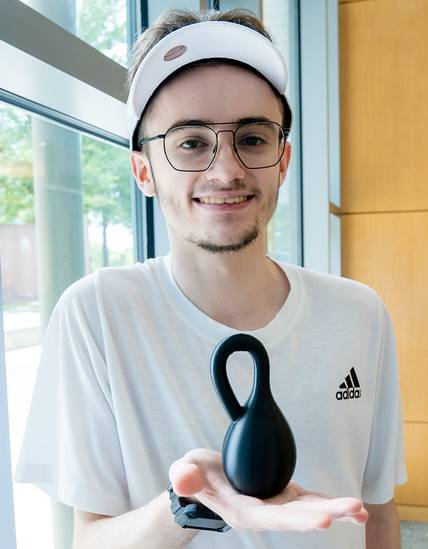 Perhaps the most unusual item produced by the group was the Mobius Strip and Klein Bottle creation by Adam Yeisley. Inspired by Mythbusters and designed with what Yeisley called non-orientable surfaces, the Klein Bottle doesn't really function as a bottle because it can hold no liquid. If you cut it in perfectly half, you would have two Mobius Strips. "I did more learning than making," said Yeisley, describing the project and the course overall. He even documented his work with a timelapse video.
Mary Ubias used wheels, levers, numbers, rods, pins, holes, a dial, and a cage to create a combination lock. But unlocking the secrets to making it was a tall task. It required printing 12 separate parts that then needed to fit together perfectly. No margin of error was allowed, just as in manufacturing consumer locks and bank vaults.
Ubias deconstructed a lock from end to beginning, getting some design assistance from YouTube videos about "how to unlock a combination lock" she explained.
After watching all seven presentations, and questioning students individually, Professor Khan was impressed, telling her class, "I'm super pleased. Your hard work paid off." As the students prepared to leave the classroom for the last time this summer, Dr. Khan praised them again, saying "You're ahead of the game."

Dr. Khan teaching in computer lab.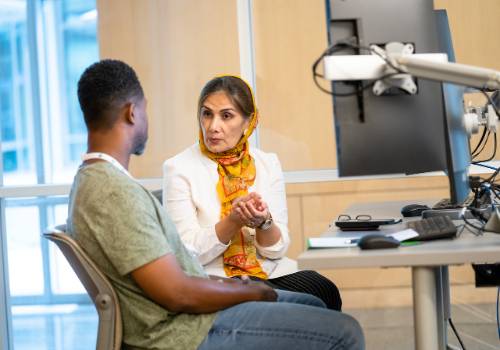 Staying ahead is the name of the game in today's competitive and ever-evolving job market. Dr. Khan takes pride in preparing her students for what's to come. "Our students will benefit greatly, as they have gained valuable knowledge and skills that will help them in college and beyond," Dr. Khan said. "They will be better prepared for the 21st-century job market."
Dr. Khan is looking forward to offering the course to future cohorts now that additional students are asking when they can take it. And they better be ready for a challenge. "I learned a lot more than I expected," said Toledo. For Dr. Khan, that is the ultimate compliment, as rewarding for her as it is for her students.



From UNT Dallas Faculty/Student News